Public Transport in Bratislava
Bratislava is not a large city compared to other European capital cities and nearly all sights and main tourist attractions in Bratislava can be reached on foot, however, sometimes it can be more convenient to use public transport, especially when you would like to visit some more distant places. Moreover, when travelling from the airport to the Bratislava city centre or back, public transport is recommended as it´s cheaper than the taxi.
Getting around Bratislava
The Bratislava public transportation system is well developed and consists of buses, trolleybuses and trams. There´s no metro in Bratislava. Bus lines cover most of the city, however, it's better to take the tram downtown. Trams are generally faster during the day, since the buses are often stuck in traffic jams. Trolleybuses (bus attached to cables overhead) service some parts of the city, too, especially the area above the castle hill. Of course, it's possible to combine all three with one single ticket.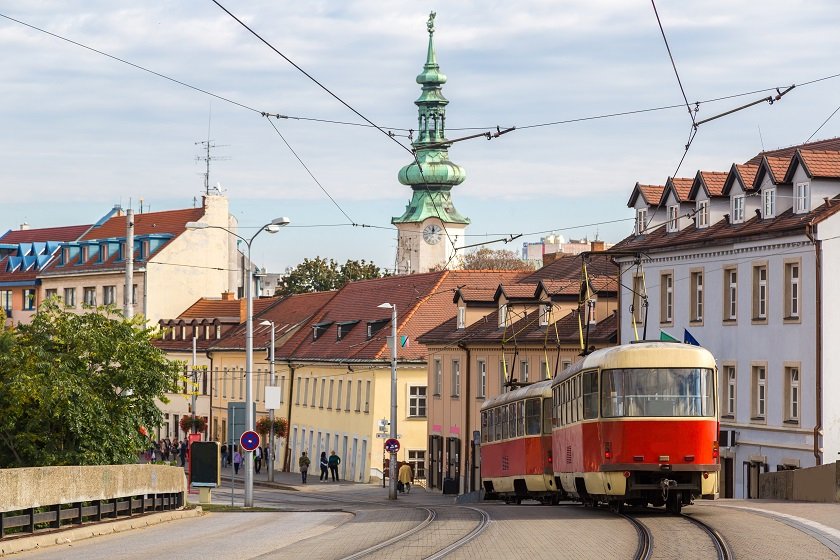 Where to buy tickets for public transport in Bratislava
Tickets in paper form can be purchased in the ticket machines (red and/or yellow) at most of the public transport stops, newspaper kiosks, tourist's information offices or specialized ticket offices (see the list of points of sales on this website). It's not possible to buy the ticket from the driver. Ticket machines accept coins, only a few of them (the ones colored in red) accept payments even by contactless debit cards.
In addition to tickets in paper form, there are two other possibilities for how to purchase tickets:
1) electronically - via IDS BK app or in the vehicle right after boarding by attaching a standard payment card (VISA, Mastercard, Maestro) to the ticket marker marked with the contactless payment symbol. Only a ticket for the cardholder can be purchased this way.
2) SMS ticket - by sending a text message according to the instructions on a given telephone number. This service is supported only by SIM card registered at a Slovak provider.
Tickets are valid for a certain period of time, but they are valid for all types of public transport in Bratislava. The number of journeys is unlimited as well as changing from one means of transport to another, when not exceeding the number of zones the ticket is valid for.
There are also 24-hours, 72-hours or 168-hours tickets, which are a good choice for tourists who plan to use Bratislava public transport more frequently.
Remember, you always need to purchase an appropriate ticket before getting on and mark it (and so validate it) in the marking machine IMMEDIATELY upon entry into the bus, tram or trolleybus. Otherwise, you risk a fine from the ticket inspector (€49 if paid on the spot, otherwise up to €89). The marking machine is close to the door, you just insert your ticket there and the time and date will be printed on it. You do not have to validate the ticket when transferring to another line.
For detailed information on ticket prices, fare zones etc., see the overview here.
Bratislava City Card
If you are visiting Bratislava for more days and want to explore the best of the Slovakia capital city and Bratislava region, we recommend buying the Bratislava City Card. It includes unlimited use of Bratislava public transportation and various benefits for all visitors, e.g. free or discounted access to many tourist attractions. The Bratislava card can be purchased at tourist information centres, main transport hubs e.g. Bratislava Main Train Station Hlavna stanica or Central Bus station Mlynske Nivy and other places.
Ticket inspectors
Ticket inspectors do not check the passengers regularly, they just show up at randomly selected lines. They do not wear any special uniform, they are dressed as regular people. The inspectors act quickly and do not say anything. They usually just show a badge, which indicates that passengers should show their tickets. A word of warning: Ticket inspectors are sometimes rude to tourists. If you have the correct ticket marked in the marking machine upon entry, refuse to pay any fines on the spot. You might be asked to give the inspector your personal information - then show them your passport or ID card, but never let them keep it.
Bratislava public transport at night
Daily public transport in Bratislava runs from approximately between 4:30 am and 11 pm. After this time you can find bus lines with the prefix "N", which means "night bus". All means of transport are marked by number and by the starting and final stop name (in case of night buses the mark is: N91, N39, ...). The service of night buses is reduced and they usually go once an hour. Remember - all stops on night routes are request stops, therefore, it is advisable to raise your hand to attract the driver's attention so that he knows about you. Likewise, to stop the bus, it is necessary to press the STOP button in the bus. There are no differences in the day and night fares.
More information about night public transport in Bratislava is available here.
Important lines
From Main train station Hlavna stanica to (or from):
Bratislava Airport (stop "Letisko") - there is a direct bus from the central railway station - Bus 61, the airport is the last bus stop. Read more about bus line 61 here.
Bratislava central bus station Nivy (stop "Autobusova stanica Mlynske Nivy) - take the direct trolleybus number 40.
Bratislava city center (stop "Centrum / Nam. SNP") - tram number 1 takes you straight to downtown.
Petrzalka train station (stop "Bratislava Petrzalka") - direct bus number 93. Are you planning a trip from Bratislava to Vienna? Trains from Bratislava to Vienna leave from this train station.
Useful tips
Most means of transport are equipped with a display showing the next stop, a map of public transport lines and stops are also announced aloud. However, if you are not sure how to get somewhere, which bus to use or where to get off, don´t be afraid to ask the locals.
For finding timetables, stops and routes of Bratislava public transport, we recommend using these websites: