Public Transport in Bratislava
A word of warning: Ticket inspectors in Bratislava public transport can be ruthless towards tourists. They carry out random spotchecks around the clock. Make sure that you:
1. Learn how to purchase tickets.
2. Mark your ticket in the marking machine IMMEDIATELY upon entry into the bus, tram or trolleybus.
3. Purchase the 60 minutes transfer ticket for EUR 1.20 for any journey with scheduled duration over 15 minutes (the scheduled duration is posted at the bus and tram stop for each line), only purchase the 15 minute EUR 0.70 ticket if you are absolutely positive that the journey is under 15 minutes. The 50 cents saved could cost you the hefty EUR 50 fine.
4. Ask your fellow passengers for help if you are being treated rudely by the ticket inspector.
Do not let the public transport ruin your experience in Bratislava!
5. Under no circumstance give your passport or ID card to anyone except for uniformed police officers. Often it might happen that the inspector requests it in order to write down your details for the fine but will refuse to return it until you pay the fine.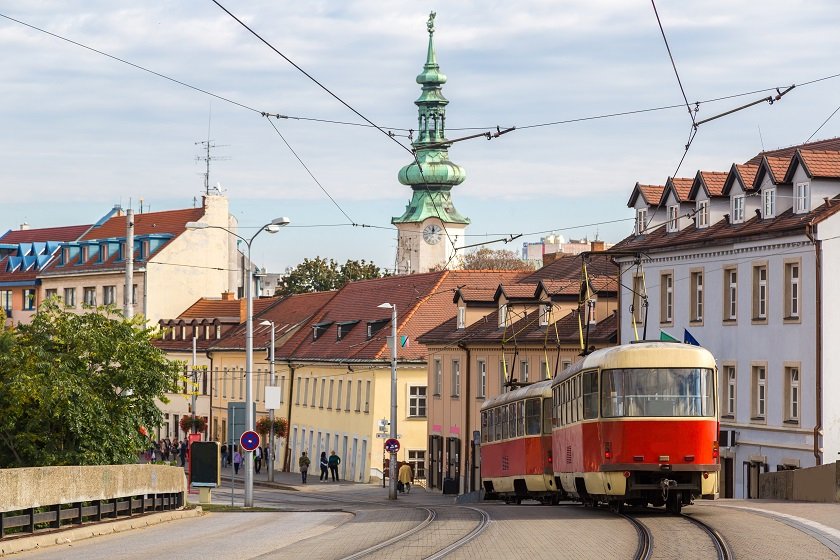 Bratislava's public transport network is divided into two zones. The first zone lines are the usual choice for tourists, since they cover downtown and most of the city.
Bus lines cover most of the city, however it's better to take the tram downtown. Trams are generally faster during the day, since the buses are often stuck in traffic jams. Trolleybuses (bus attached to cables overhead) service some parts of the city, too, especially the area above the castle hill. Night lines cover all parts of the city and usually depart from the main train station xx:30 (11 p.m. - 3 a.m.)
Today's public transport services in Bratislava are of decent quality in terms of coverage and frequency by the standards of many Western visitors. They consist of tram lines, trolleybus lines and bus lines.
There are still some old buses and trams in service, but they are slowly being replaced with new ones. Many buses now run on natural gas. Americans may find our public transport system quite comprehensive and impressive, but some westerners may be used to a higher standard.
Fares
Tickets are available in the ticket machines (red and/or orange) at the public transport stops and in some of the newspaper stands. Ticket machines accept coins of value 5 cents to EUR 2 only and a few are also work with contactless debit cards.
Immediately after entering the vehicle you have to validate your ticket in the orange validating machines.
Ticket inspectors from the Bratislava Transport Company spot-check tickets occasionally. They enter the bus or tram on a random stop and check all passengers' tickets. A passenger without a valid ticket or season pass can be charged a fine of up to EUR 70, or EUR 50 on the spot. There have been reports of ticket inspectors inappropriately fining tourists. If you have the correct ticket marked in the marking machine upon entry, refuse to pay any fines on the spot. You are entitled to give the inspector your personal information (show them your passport, but never let them keep it) and pay the fine later (needless to say this is an unlikely outcome in case of foreigners).
The Bratislava City Card on offer from the official Bratislava Tourist Service includes free travel on the city's public transport system.
Basic fares
15 minute transfer ticket costs EUR 0.70
30 minute transfer ticket costs EUR 0.90
60 minute transfer ticket costs EUR 0.70
Children up to 6 years of age ride for free.
Children between 6 and 15 years of age ride with a 50% discount.
For pets, bicycles or large luggage, you need to purchase a ticket for 35 cents (reduced 15 minute ticket) and this is sufficient for 180 minutes.
The ticket duration corresponds to scheduled trip duration (i.e., in case of traffic delays, the 15 minute ticket is sufficient for a scheduled 15 minute ride even if the ride takes longer).
Value fares
1 day transfer ticket costs EUR 3.50 (24h)
3 day transfer ticket costs EUR 8 (72h)
1 week transfer ticket costs EUR 11.40 (168h)
Important lines
From Main train station to downtown/city centre:
Tram no. 1 will take you straight to the old-town of Bratislava
From Main train station to Petrzalka train station (connections to Vienna):
11 minutes - bus no. 93 - get off at ZST Petrzalka stop (15-minute ticket required)
From Main train station to the Bus station
10 minutes - trolleybus no. 210 - get off at end stop AS Mlynske Nivy (15-minute ticket required)
From Main train station to the Bratislava Airport:
20 minutes - bus no. 61 - get off at end stop Letisko (30-minute ticket required)
Bus stops are located outside of the train station to the right, trams through an underpass to the left.
Timetables and more information at iMHD Bratislava website.