Best halušky in Bratislava
Halušky is one of the treasures of Slovak cuisine and probably the most famous Slovak national dish. Halušky are small potato dumplings, served in different variations - there are many regional recipes. The most common and famous combination is bryndzove halušky, served with sheep's cheese and sprinkled with fried bacon. It is because of the sheep cheese that halusky have a very specific, distinctive taste and smell, and those who taste them usually fall into one of two groups - you either love them or you hate them. However, if you don't try them, it's as if you're not in Bratislava! To make it a little easier for you to form an opinion about this Slovak national dish, we've prepared a selection of Bratislava restaurants that - in our opinion - offer the best bryndzove halušky in Bratislava. So, will you give halusky in Bratislava a try?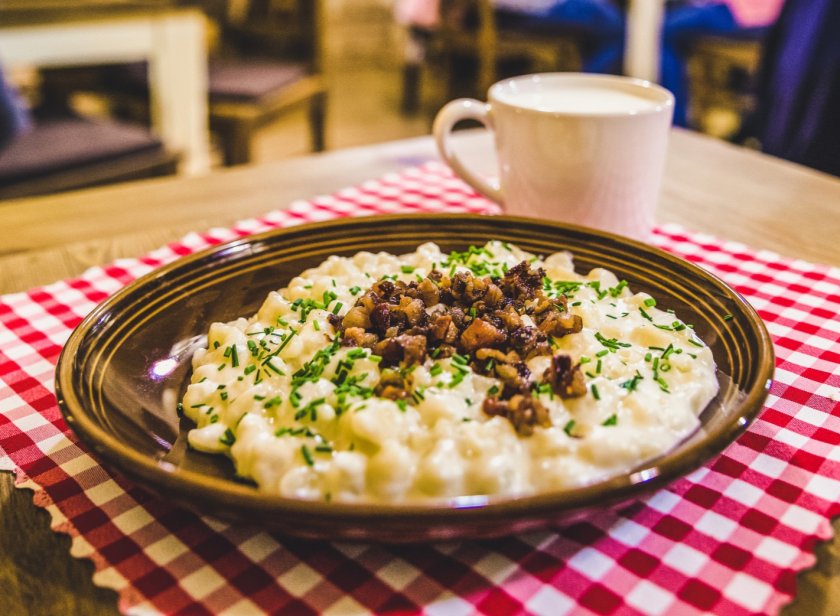 Slovak Pub
Address: Obchodná 62, Bratislava
GPS: 48.14837, 17.11235
https://slovakpub.sk/
Slovak Pub is one of the oldest and largest pubs in Bratislava - and also one of the most popular. There are specialists in traditional Slovak cuisine, and since the pub also has a brewery, you can enjoy delicious food at affordable prices, washed down with homemade craft beer. In addition to the brewery, the pub has its own organic farm, so the dishes are based on fresh ingredients. Homemade, handmade bryndza halusky can be tasted in several variants - with bacon, with oštiepok (a traditional smoked sheep milk cheese) and bacon, with sausage or with sheep cheese and bacon. Of course, you will also find other traditional Slovak dishes on the menu - strapacky (dumplings with cabbage), bryndza pierogi and others. Or try a bowl for two persons with a selection of the best Slovak specialties. It's no exception that it's quite crowded here, and thanks to its reasonable prices, the Slovak Pub is also popular with students. Fortunately, the capacity of the place is sufficient and you can also have a little peek into Slovak history while enjoying a good meal, as each of the 11 rooms on 2 floors is decorated in a different period of Slovak history.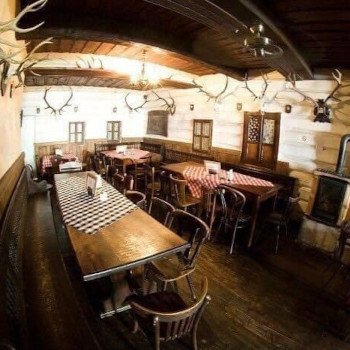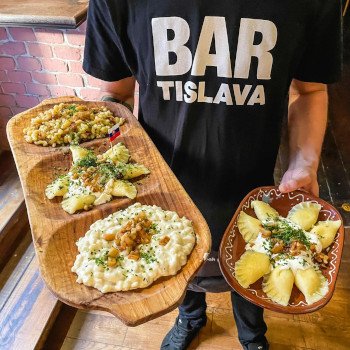 Source: facebook.com/SlovakPubBratislava

Bratislava Flagship
Address: Námestie SNP č. 8, Bratislava
GPS: 48.14611, 17.11027
http://www.bratislavskarestauracia.sk/
Right on the Námestie SNP you can go to one of the biggest restaurants not only in Bratislava, but also in Europe. It can host up to 500 guests! The restaurant is located right in the place where the monastery used to be, spread over three floors in the former cinema, while the restaurant has its own brewery in the underground, where the monastery's beer hall used to be. In summer, there are also two terraces directly on the square. Already the size of this pub, the interior and the traces of history will leave an impression on you after the first steps. The food menu focuses on traditional Prešpor cuisine complemented by grandmother's recipes and dishes to go with the beer. As for the halusky, they are offered in several variants - halusky with bryndza and bacon, only with bryndza or with smoked sheep cheese. If you can't get enough, you can also try strapacky - dumplings with cabbage and bacon,bryndza pierogi or bobáky - sweet dumplings. Or you can have a bit of everything - on the menu there is also a "Slovak bowl for 2 people". And of course we recommend the local craft beer. The advantage is that the menu includes photos with the dishes, so you always know in advance what you're ordering. The restaurant is owned by the same owners as the Slovak Pub, so they also use fresh ingredients from their own farm.
Bratislava Flagship is one of the dominant features of Bratislava and it is not for nothing that it is said that who has not visited Flagship, does not know Bratislava. And anyone who has visited Flagship and not tasted these halušky in Bratislava will not know what Slovakia tastes like.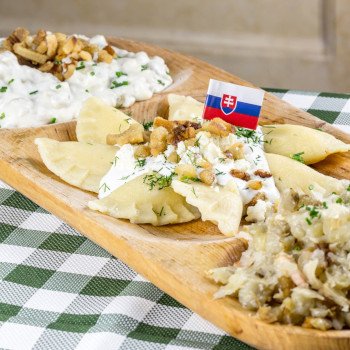 Source: instagram.com/bratislava_flagship_restaurant/, facebook.com/bratislavaflagship/photos

Viecha U Sedliaka
Address: Obchodná 55, Bratislava
GPS: 48.14862, 17.11243
https://usedliaka.sk/
U Sedliaka is one of the oldest wine houses in Bratislava. Yes, you read it right - wine house. In the street where it is located, it used to be inhabited mostly by wine growers. Thanks to the so-called "viecha law", they could sell their own wine directly from the house in a predetermined order for a certain period of time. The symbol was a 'viecha' - a kind of bundle of hay, straw and twigs hanging over the entrance. Hence the name 'Viecha u Sedliaka'. History and tradition are reflected in the current menu, which is based on ingredients from local suppliers. And halusky? These come with deliciously creamy bryndza and topped with bacon, sausage, smoked oštiepok or onion. The portions are generous, the potato dough soft, with a lot of creamy bryndza. There is even a vegetarian version. The menu also includes other Slovak specialties that you can wash down with cask wine or draft beer. U Sedliaka is located right across the street from the Slovak Pub, but either way, whether you go there or there, you'll get one of the best bryndzove halusky in Bratislava.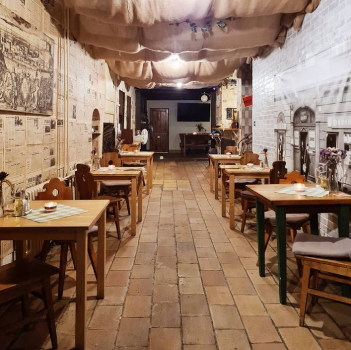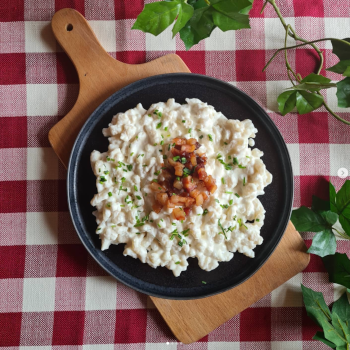 Source: instagram.com/viecha_u_sedliaka/

Koliba Kamzik Bratislava
Address: Zelená 5, Bratislava
GPS: 48.14283, 17.10704
http://zelena.kamzik.sk/sk/
Koliba Kamzík has two branches - one in Stary Smokovec in the High Tatras and the other in Bratislava in the Old Town. They cook really honest Slovak cuisine here, and just as soon as you enter the mountain chalet-style interior, despite its location right in the heart of the tourist centre, you will feel the real Slovakia. No wonder visitors to Bratislava love coming back. The friendly staff in costumes also contributes to the great atmosphere. From the menu, we recommend the bryndza halusky, or try the "Kamzik's Plate" or "Pierogi-halusky platter" with friends, which offers to taste several Slovak specialties at once.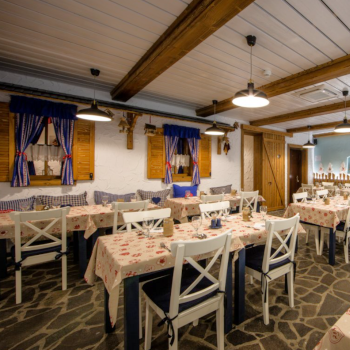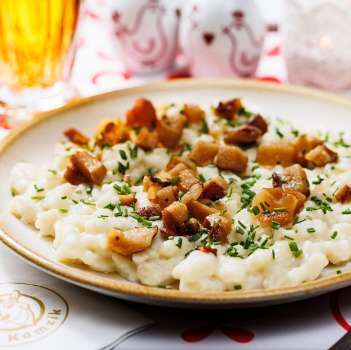 Source: zelena.kamzik.sk, facebook.com/kolibakamzikba/

Schoppa restaurant
Address: Kamzíkov vrch 2821, Bratislava
GPS: 48.18471, 17.09574
https://www.schoppa.sk/
Schoppa is a really beautiful, stylish and cosy restaurant with a rustic interior. Located just a short walk from Kamzik Hill, it is an ideal stop when wandering around this popular forest park. Bryndza halusky with bacon or sausage can be enjoyed on the terrace overlooking the Kamzík tower. However, the menu is not limited to Slovak dishes, so there is something for everyone. The service might be sometimes a little bit less attentive, but it depends on who you come across. And despite this small minus, this restaurant is worth a visit. And as it is known - after a nice walk it is always best to get hungry, or?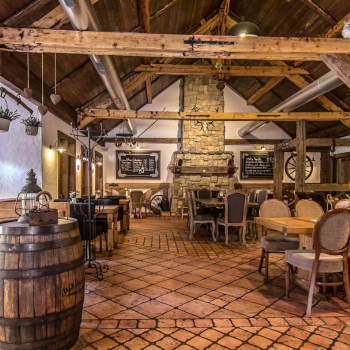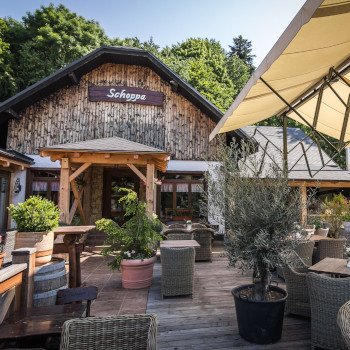 Source: facebook.com/schoppaRestaurant/
Tip:
Do you want to know more about halusky? Check this article.

Map with an overview of the
TOP 5 restaurants with halusky in Bratislava