Best Ramen in Bratislava
Tips from locals
A delicacy that kicks, warms and satiates. Did you think of Vietnamese Pho first? No, we're talking about a treasure of Japanese cuisine called ramen. Although the popularity of Pho soup is still not reached by this Japanese national meal, it doesn't mean that you won't find places in Bratislava where you can enjoy delicious authentic ramen. After all, soups - including those with noodles - are also an essential part of Slovak cuisine.
But enough talk, let's introduce the best ramen in Bratislava!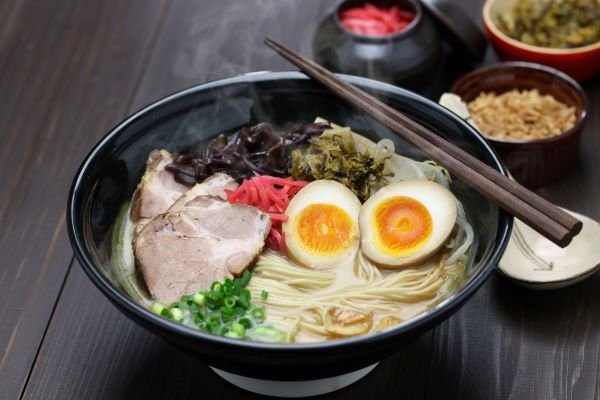 A few interesting facts about ramen
There are countless recipes for ramen and each restaurant can have its own. However, the true star is often the broth and according to the type of broth there are 4 basic types of ramen:
Shoyu ramen: made with a soy sauce-based broth. The broth is typically clear and has a salty and savory flavor profile.
Shio ramen: features a clear and pale broth seasoned with salt. It offers a simple, mild flavor profile, allowing the natural taste of the ingredients to shine through.
Tonkotsu ramen: made with a pork bone broth. The broth is simmered for hours, resulting in a typically rich and creamy soup with a milky white color.
Miso ramen: gets its distinctive flavor from fermented soybean (miso) paste. The broth is typically rich, robust and flavorful and has a slightly sweet and nutty taste.
In addition to the type of broth, the four main types of ramen can also be distinguished by the toppings that are typically used. Shoyu ramen is typically topped with pork belly, green onions, and a nori seaweed sheet. Shio ramen is usually accompanied by chicken chashu, bamboo, and a narutomaki fish cake. For Tonkotsu ramen, pork belly, kikurage mushrooms, and a boiled egg are typical. And in Miso ramen pork belly, bean sprouts, and a corn kernel are mostly used.

Best ramen in Bratislava

Ramen KAZU
Address: Panská 15, Bratislava
GPS: 48.14256411323153, 17.107663509496447
Web: http://ramenkazu.sk/
In the centre of Bratislava, near Hviezdoslav Square, there is a bistro called Ramen Kazu, the oldest ramen restaurant in Bratislava and the best place to go in Bratislava for traditional Japanese ramen. Ramen Kazu offers different types of ramen, besides those traditional (ramen shoyu, miso and shio) e.g. karaage ramen and various specialties such as Japanese fried chicken (Karaage), octopus balls (Takoyaki) or Japanese dumplings (Gyoza). Be sure to try mochi or green tea ice cream as a dessert. We promise, you'll find yourself in culinary heaven. Ramen Kazu is also known for its friendly service and relaxed atmosphere. This restaurant is a great choice for those who are looking for authentic Japanese ramen in Bratislava.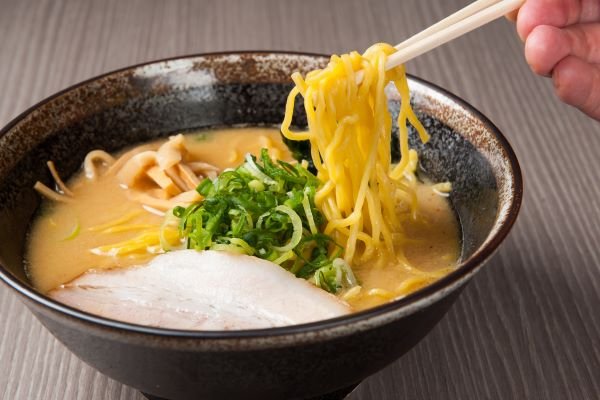 Source: facebook.com/ramenkazu

Kinka Ramen
Address: Pribinova 19, Bratislava
GPS: 48.14148459831796, 17.126325195483687
Other branches: Kinka Ramen Nivy, Kinka Ramen Aupark
Website: https://www.facebook.com/RamenKinka/
Kinka Ramen offers ramen lovers in Bratislava even 3 branches to enjoy their great ramen (however, we personally recommend that one in Pribinova Street). If you are looking for innovative ramen in Bratislava, then Kinka Ramen is the place to go. Of course, traditional ramen types are also on offer. And kimchi, gyoza, bao or karaage and other snacks. The restaurant space is smaller but all the more cosy, making it a great place to enjoy a meal with friends.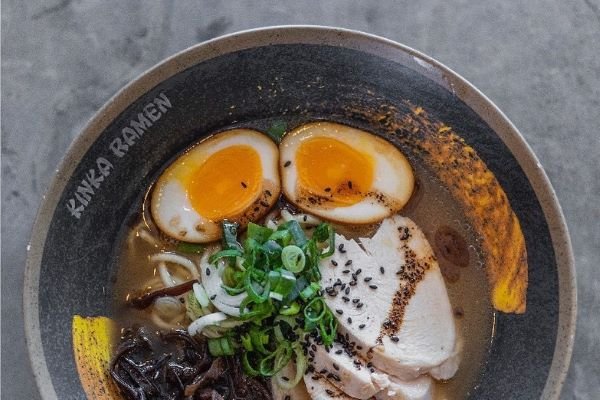 Source: facebook.com/RamenKinka

SHUGETSU
Address: Štúrova 20, Bratislava
GPS: 48.20094524016096, 17.014506311353564
Website: https://www.shugetsu.sk/
Shugetsu is another highly rated ramen restaurant in Bratislava. It is known mainly for amazing tsukemen, which is a type of ramen where the noodles are served separately from the broth. This restaurant is indeed such a hidden treasure, not only because of the great ramen, but also because of its location. It is located just outside Bratislava, in the Doubravka district. But their menu is definitely worth the trip here. Their tsukemen as well as other dishes are delicious and authentic, with rich and flavorful broth, and the perfectly cooked noodles. You can always add some extra topping according to your taste. And after finishing the ramen, don't forget to pour some chicken broth into the special sauce. Voila, you will get a delicious chicken soup! Be sure to make a reservation before your visit, the restaurant is quite small and as it definitely offers one of the best ramen in Bratislava, it is not uncommon to see people queuing up for their delicious ramen!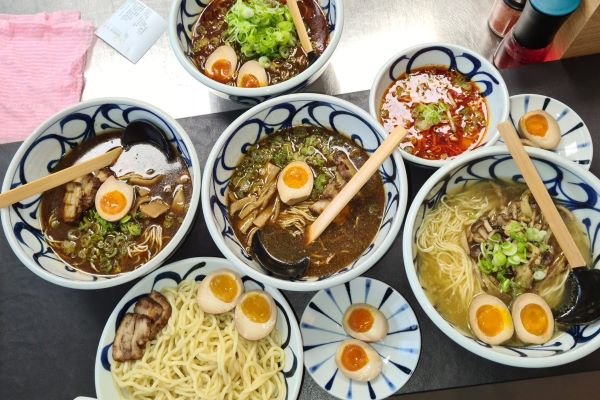 Source: facebook.com/shugetsusk

Gonnsuke Ramen
Address: Freshmarket - Rožňavská 1a, Bratislava
GPS: 48.16764537280443, 17.153606411351134
Website: https://www.freshmarket.sk/en/stores/gonnsuke-ramen/
Gonnsuke Ramen is part of Bratislava's Freshmarket. This alone guarantees that you will get ramen made from high-quality Japanese ingredients, which is the basis for a perfect ramen. However, compared to previously mentioned restaurants with ramen in Bratislava, we would give one less star when rating the ramen at this place as the taste is a bit less intense. However, on the other hand, it is also more reasonably priced. Thus, within the price-performance ratio, it is a good value for money.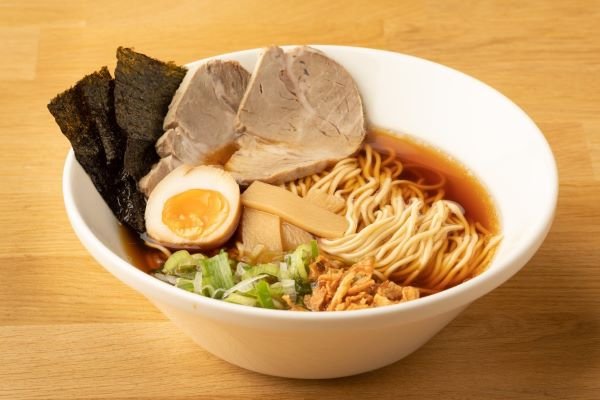 Source: facebook.com/gonnsuke.ramen

In addition to these restaurants that focus specifically on ramen, ramen in Bratislava can also be found on the menu of some other restaurants in Bratislava that specialize in Asian cuisine. Worth mentioning is the Edo-Kin chain, operating as many as 4 branches in Bratislava, and especially the fusion restaurant Kazumi, whose visit is always an experience, no matter what you order.

Summary
Overall, no matter which one of these restaurants you decide to visit to enjoy your favourite ramen in Bratislava, you can't go wrong. In addition to generous portions of this delicious dish, you will also enjoy typical Japanese hospitality, friendly staff and a relaxed atmosphere.

Map with an overview of the best ramen restaurants in Bratislava