Off the Beaten Path Guide
New Bridge (formerly known as SNP Bridge) - built in 1969 without pillars, hanging on steel ropes. A beautiful synagogue and other nice buildings had to give way.
The Communist-era restaurant with crappy food and great views accessible by elevator in one of the pillars (which despite what some claim, never spun) reopened in 2005 as UFO Watch.Taste.Groove. On top of the bridge there is a viewing deck, which was never accessible in the past as the Communist regime deemed it inappropriate to give people such a panoramatic view of neighbouring capitalist Austria.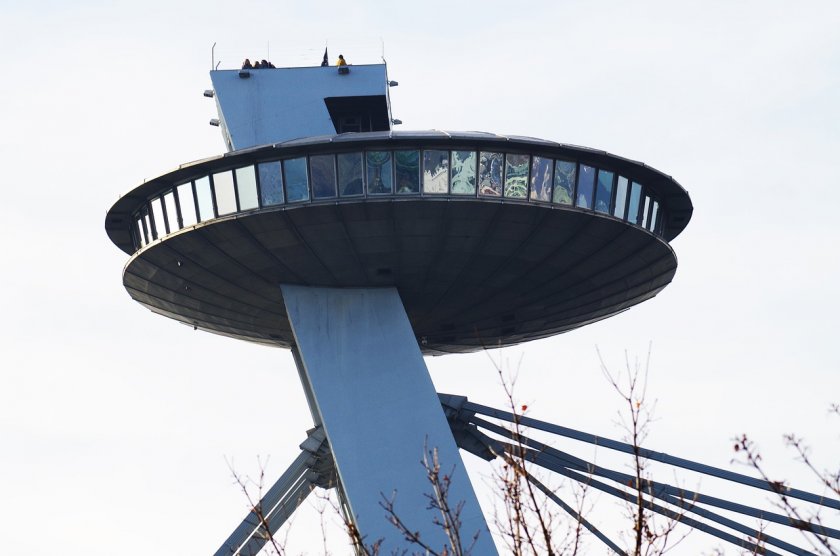 The bridge is covered in graffiti (although the city is now making an effort to have the graffiti removed). Still, a pleasant walk to the other side takes you to a nice park, Sad Janka Krala, which leads to the Aupark Shopping Mall (with a multiplex cinema).
Outdoor Market on Mileticova, where many locals do their grocery shopping, browsing stalls offering everything from fresh vegetables to local souvenirs to Chinese shoes. The market is open every day, but particularly popular on weekends.
Indoor Old Town Market reopened a few years ago after decades spent in decrepit state. There are many fast-food stands with local specialties, some fresh produce, a pub and a selection of fast-food restaurants.
Public musical instruments are installed on a lawn at the junction of Obchodna, Zupne Square and SNP Square. The Dacing Bells - nine metal pannels to step on with different bell tones are great fun (even sober), as is the Sea Tide sound instrument and the wooden "telephone".
Sandberg is a sand hill - a piece of desert with sandstone, which used to be a sea, right next to the Devin Castle (also worth a visit).

Figaro Chocolate Factory Outlet Store - take the trams 3, 5, 7, 11 or 17 down Racianska and get off when the chocolate smell becomes unbearable - next to the Figaro factory. You can sample the delicious products of this traditional Bratislava chocolate maker.
Anticka Gerulata in Rusovce is a museum at an excavation site of a Roman military camp, one of the furthest military outposts of the Roman Empire. Open from May to September daily except Mondays from 10 am to 5 pm. Hop on bus 91 at the New Bridge and get off at the Rusovce castle.
Monument to fallen Russian soldiers Slavin towers over Bratislava, surrounded by one of the nicest and most posh residential quarter housing old gold and some of the current rich and famous. The monument serves well for tranquil walks and offers great city views. The Soviet Army liberated Bratislava on April 4, 1945.
Petrzalka - the concrete jungle and Communist regime's answer to the shortage of housing for out of town workers required to operate the industrial factories - if Bratislava spun the part on the right side of Danube off, these horrid concrete blocks of flats would constitute Slovakia's third largest city on their own. If you want to take some surreal photos of urban landscape, take a walk around Petrzalka. Due to the housing shortage in Bratislava, Petrzalka is by no means lower class but houses mainly younger middle class families.
Danube river dam leading to Rusovce and Cunovo on the right side is popular for bike trips and in-line skating. There are plenty of pubs along the dam. On nicer days, an excellent place for people-watching. Further downstream there are man-made lakes popular for swimming in the summer. To reach the dam, walk across the Old Bridge from the Old Town and continue along the riverside down the stream.
Popular outing places Koliba (reachable by trolleybus 203 departing Hodzovo Square by the Presidential Palace), Kamzik (TV tower with rotating restaurant Veza), Zelezna studienka (bus 43 from Patronka).
Visit ULUV, the Center for Folk Art production on Obchodna to buy original souvenirs, their design shop in Dobrovicova or their smaller shop on SNP Square.
Finally, to explore some of Bratislava's less tourist Old Town areas with rich offerings visit our (not yet finished) Dunajska Street and Mlynske Nivy Miniguide, Obchodna Area Miniguide, Old Petrzalka Miniguide and Vydrica and Castle Hill Miniguide.