Bratislava Airport
Bratislava airport spreads out in Ivanka pri Dunaji (Ivanka by the Danube). When compared to other major city airports, it is a rather smaller airport with only one terminal, with one exit for domestic flights and eight exits for international flights. Check-in capacity increases from 11 to 19.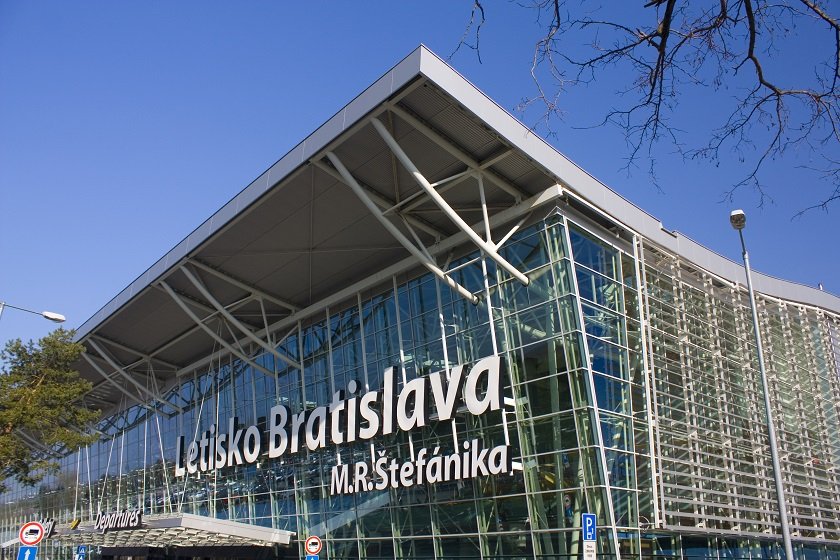 The hall for international flights offers a currency exchange, coin and card machines and a small bar where you can also buy food. Bratislavske Kulturne a Informacne Stredisko (Bratislava Culture and Information Center) operates a small branch at the airport, which is open Monday to Saturday from 9:00 a.m. to 7:00 p.m. and Sundays from 9:00 a.m. to 6:00 p.m. It offers maps and brochures and Bratislava City Cards, which enable free public transport, as well as other discounts in museums, etc.
How to get there?
The airport is easily accessible by taxi from anywhere in the city. The road to the airport is linked to the D1 motorway and you can be at the terminal in 30 minutes by car or taxi, even during peak times. Outside of peak hours, at night or in the early morning hours, the journey time to the airport takes no longer than 15 minutes.
Public transport
If you are not in a hurry, you can also choose public transport. A single line number 61 runs between the airport and the Main train station. There are several transfer hubs on the route (Racianske myto, Trnavske myto, Bajkalska), from which it is possible to travel to almost all parts of the city. The journey from the airport to the main train station takes about 25 minutes (the bus can get stuck in traffic jams during rush hours), the buses run every 10 minutes during rush hours, otherwise every 20 minutes. The departure of line 61 from the airport can be found here. To travel to the main train station you need a 30 minute ticket (costs | 0.60 | for adults), which you can buy in the ticket machine at the airport. However, this only accepts coins, so it is better to get the coins in the airport hall (e.g. in the coffee machine, he also accepts banknotes).
Taxi services
A taxi ride to the city center that was previously ordered by phone costs from | 6.64 | to | 11.61 |, depending on the taxi company and the traffic situation. The waiting time for a taxi is no longer than 15 minutes. Taxis waiting at the airport charge much higher fares than taxis ordered by phone.
You can order a private transfer from the airport to the hotel here.
As a service for our visitors, we offer you the possibility of transport reservations from the airport to your hotel for | 15 | without further fees. This service is more expensive than a taxi ride ordered by phone, but it ensures that the driver is available immediately after your arrival, even if the plane is delayed. By choosing for this service you get a safe, punctual and convenient collection with a reliable company. Taxis waiting directly at the terminal can be several times more expensive. Read Taxi - How to avoid scams.
Transport from Bratislava airport directly to Vienna is also possible.
The closest hotels to the airport
The airport is not very far from the city, so most hotels can be reached by car from the airport in 20-25 minutes. There are some cheap hotels in the immediate vicinity of the airport, which with their service can hardly compete with the hotels in the city. If you are looking for a hotel near the airport for an early flight, we recommend Aviator Hotel. The airport is only 500 meters or a bus stop away.
Car rental
There are six car rental services in the terminal building of the airport: Alimex, Avis, Budget, e-sixt, Europcar, Hertz, Klees. It is possible to order a car in advance so that it arrives after landing.
Parking
Short standing is possible in an open parking lot for 490 cars, the price is | 2 | per hour. There is a discount for longer stays. You can reserve a parking space by calling +421 4857 6261. The parking fee can be paid in cash in the parking meter, or by credit card from the car park staff. Cheaper long-term parking is possible in a closed P2 car park (| 10 | per day, | 26.55 | for a whole week).
Flights to and from Bratislava
Bratislava Airport has registered a high growth in passenger numbers in recent years, but is still in the shadow of Vienna's Schwechat Airport, which is a major transportation hub and is only about 30 minutes from Bratislava. In the first half of 2004, Bratislava airport handled about 300 thousand passengers. There are regular flights from Bratislava to Prague, Amsterdam, Berlin, Brussels, London, Paris, Tel Aviv and many other cities. Bratislava Airport is the home base for the low-cost airline SkyEurope.
The following companies fly from Bratislava:
Aeroflot (flights to Moscow-Seremetevo 2)
Air Slovakia (changed hands in 2006, mainly flights from Europe to India, flights to Barcelona, ​​Milano, Birmingham, London, Amritsar, Bolona, ​​Dhaka, Tel Aviv)
Austrian Airlines (domestic flights to Kosice)
Czech Airlines (flights to Prague)
Lufthansa (flights to Munich)
Ryanair (flights to Milan, Bremy, Bristol, East Midlands, Barcelona, ​​Frankfurt, Stockholm a London and Dublin)
Slovak Airlines (flights to Brussels, Tel Aviv, Moscow-Seremetevo 2)

The airport bears the name of Milan Rastislav Stefanik, an important Slovak statesman who earned the foundation of Czechoslovakia in 1918. The official website of the airport can be found here, it provides all the important information about the capacity, facilities and location of the airport.