Bratislava Airport
Bratislava Airport, officially M. R. Stefanik Airport (in Slovak Letisko M. R. Štefánika) is the main international airport of Slovakia. It is situated 9 km northeast from the Bratislava city centre and belongs to Bratislava-Ruzinov, partially Ivanka pri Dunaji. It handles approx. 2 millions passengers yearly. The airport bears the name of Milan Rastislav Stefanik, an important Slovak statesman who earned the foundation of Czechoslovakia in 1918.
Address: Bratislava Airport (BTS / LZIB), Ivanska road, 820 01 Bratislava
GPS: N 48.1702076, E 17.1991187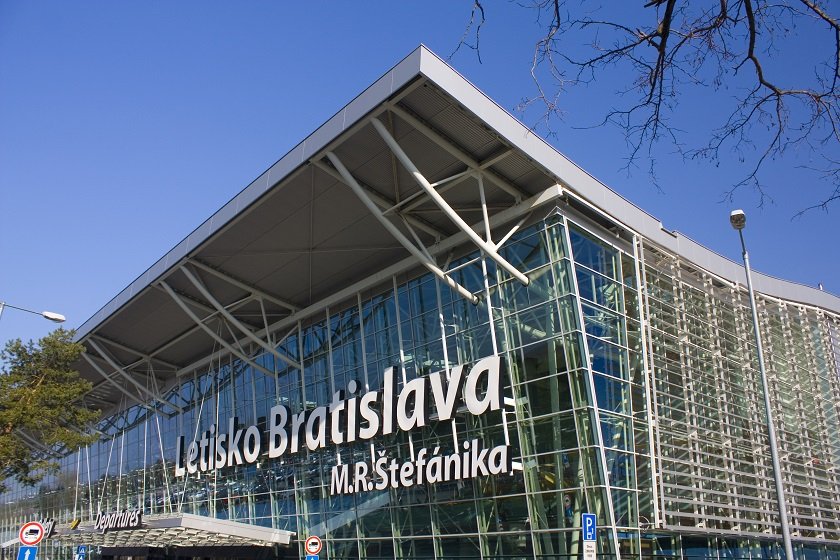 Facilities and services provided
The airport offers everything you need for comfort while waiting for your departure. There are food corners, coffee shops with take away options, multiple ATMs, free wi-fi, if your mobile or notebook has a low battery, there are charging stations. In case of travelling with childrens, there is a mother and child room and kids´play area as well. Do you need to wrap your baggage? No problem, during the summer season there's also this service. For transporting your baggage you can use baggage trolleys free of charge. And if you would like to print your holiday photos, you can use the self printing photo device at the arrivals terminal. For those who travel in business class on a regular basis or are owners of specific loyalty cards can access a special lounge offering more privacy and additional services. Note that there is no money exchange office and no left-luggage office.
Transfer from the Bratislava airport to the city centre (and vice versa)
By car
Bratislava airport is easily accessible by car from anywhere in Bratislava. There's a direct link to the D1 motorway by-pass, so you can be at the airport in 30 minutes by car or taxi, even during peak times. At night or in the early morning hours, the journey to the airport takes no longer than 15 minutes. To get to the airport, just follow the signpost "Letisko" with an aeroplane pictogram.
By public transport
If you are not in a hurry or travel on the budget, you can get to / from the airport by public transport. There's a direct bus 61 connecting the airport with the city centre as well as the main train station Bratislava Hlavna stanica, or bus 96 in the direction from Petrzalka. The bus stop Airport (Letisko) is in front of the Departures terminal. The journey from the airport to the main train station takes about 25 minutes (the bus can get stuck in traffic jams during rush hours), the buses run usually every 10 minutes during rush hours, otherwise every 20 minutes. From the main station it's about 15 minute walk to the city centre, or you can take bus 93 (stop "Hodžovo námestie") or tram 1 ("Námestie SNP"). The exact times of the departure of bus 61 from the airport can be found here. During night there's a night line N61.
More information about airport bus 61 incl. tickets you can read in our article dedicated to this bus line.
Taxi Bratislava Airport
There are usually many taxis waiting at the airport, however, they charge much higher prices than a taxi ordered by phone. Therefore we recommend ordering a taxi in advance over the phone. There's e.g. Bratislava Airport Taxi, which operates not only in Bratislava, but also internationally in Vienna, Budapest or Prague and between these cities. For more information visit this website.
Another possibility of getting from the airport is to order a private transfer from the Bratislava airport directly to the hotel. This service is more expensive than a taxi ride ordered by phone, but it ensures that the driver is available immediately after your arrival, even if the plane is delayed. By choosing this service you get a safe, punctual and convenient transfer with a reliable company. Find more information here.
If you're interested in more tips on taxis in Bratislava, read our article on this topic.
Car rental
Travelling without limitation immediately after landing? No problem! Just rent a car. There are six car rental services in the public area of the Arrivals terminal: AutoUnion, Budget, Buchbinder, Enterprise/Alamo, Greenmotion, Hertz/Firefly/Thrifty/Dollar, Sixt.
It is possible to order a car in advance so that it´s available immediately after landing.
Parking at Bratislava airport
Parking lots operate 24/7. There are two - P1 with more than 100 parking spaces in front of the terminal complex, where you can stay 15 minutes free of charge, and larger P2 with the capacity of 670 parking places with just 5 minutes free of charge. Thereafter the price for an hour is €5. Parking for a longer time is possible at P2 situated walking distance from the terminal. It's an open-air parking with security cameras, parking for one day costs €28 and reservation is not possible. For more days there are some discounts. For more information on Parking at Bratislava Airport and prices - click here.
Book a hotel close to the Bratislava airport
The airport is not very far from the city, so most hotels can be reached by car from the airport in 20-25 minutes. There are some cheap hotels in the immediate vicinity of the airport, however. with their service they can hardly compete with the hotels in the city. If you are looking for a hotel near the Bratislava airport for an early flight, we recommend Aviator Hotel. The airport is only 500 meters or a bus stop away.
On booking.com there are even more nearby hotels mentioned, e.g. Vienna House Easy Bratislava, NH Bratislava Gate One, Hotel Orlan or Hotel Plus, therefore we recommend you take a look at all the options on this website, where you can book the chosen accommodation directly.
Flights to and from Bratislava
Most regular flights from Bratislava are to European cities, however, there are also some flights outside European destinations. Ryanair, Wizz Air, Air Caro, AirExplore or SmartWings are the examples of companies which fly from Bratislava on regular basis.
For the overview of all flights and comprehensive information about the Bratislava airport we recommend to visit the official website of the BTS airport.