Best Rooftop Bars in Bratislava
Enjoy delicious drinks or food with a view
What could be better than an evening with friends or your loved one with a glass in hand? Enjoying it all with a great view! Spice up your experience with a visit to one of our selection of the best rooftop bars in Bratislava, from which you will have an impressive view of the whole city. In addition, we've thrown in a few other tips for restaurants in Bratislava with a view that aren't exactly rooftop bars, but thanks to their location, you'll enjoy an equally nice view from here.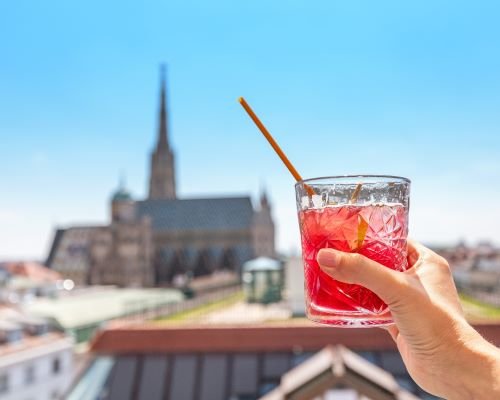 Sky Bar & Restaurant Bratislava
Address: Hviezdoslavovo nám. 7, Bratislava
GPS: 48.14107, 17.10719
http://www.skybar.sk/
This rooftop bar right in the centre of Bratislava deserves to be mentioned first without a doubt. When you visit it, you will be rewarded not only with a magnificent view, but also with top-quality cocktails and excellent service from the very first moment. Sky Bar Restaurant Bratislava is spread over two floors - on the 7th floor there is a bar with a restaurant, on the 8th floor there is both a glass terrace with a restaurant and rooftop bar, and an outdoor terrace, from where you can enjoy a great 360-degree view of the entire Old Town. Every drink served in this Sky Bar & Restaurant has an original story associated with it, which the bartender will tell you while mixing. We also recommend trying something from the menu, because whatever you choose, you can be sure that it will be a perfect experience for all the senses.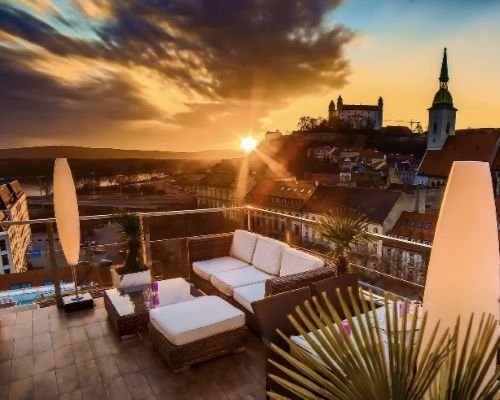 Source: youtube.com

Rooftop by Regal
Address: Hurbanovo námestie 6, Bratislava
GPS: 48.14565, 17.1074
https://www.rooftopregal.sk/
We have already mentioned the Regal Burger chain, to which Rooftop by Regal belongs, in our article about the best burgers in Bratislava (read HERE). At Rooftop by Regal, along with your burger you will be served also with a great view over the rooftops of the historic centre. And of course craft beer, wines from all over the world, delicious homemade lemonades or one of their own original as well as classic cocktails. All this in a pleasant atmosphere. In addition, various musical and cultural events are held on the terrace during the summer. Thanks to heated igloo tents, you can enjoy the view from this Bratislava rooftop bar even in winter. Located on the rooftop of the historic building that originally housed Bata, we definitely recommend putting this rooftop bar in Bratislava on your must-visit list!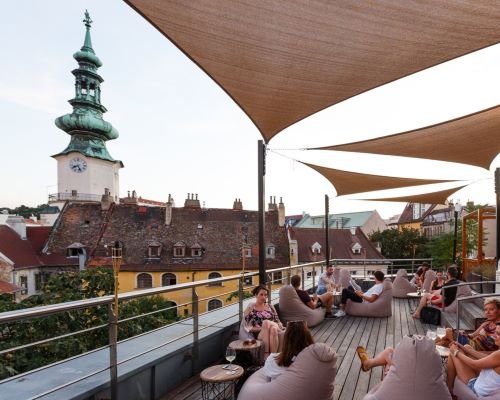 Source: facebook.com/rooftopbyregal

UFO watch. taste. groove
Address: Most SNP, Bratislava
GPS: 48.13664, 17.10467
https://www.u-f-o.sk
A visit to this unique landmark of Bratislava is an experience in itself. At a height of 95 metres, you can enjoy top gastronomy and creative drinks in the restaurant with two rooftop bars. Needless to say, reservations are advisable and you should expect higher prices. There is a fee to enter the viewpoint itself, however, if you have one of the main courses in the restaurant, entry is free. No doubt, a visit to this rooftop bar in Bratislava will be one of the highlights that you will definitely remember.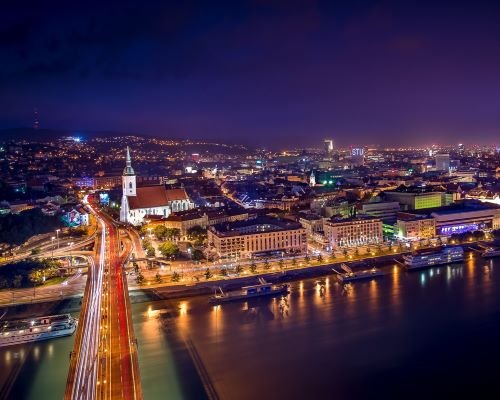 Source: u-f-o.sk/sk/

Bar & Lounge Outlook Bratislava
Address: Metodova 4, Bratislava
GPS: 48.15738, 17.12926
https://www.facebook.com/outlookbarandlounge
Located on the 13th floor on the rooftop of the Bratislava Central shopping centre and the Lindner Hotel, this modern rooftop bar offers you a relaxing view of Bratislava from a slightly different angle, as it's a short walk from the centre. As for drinks, the drink menu includes both traditional cocktails and playful combinations of local spirits with unusual ingredients. The hotel to which this rooftop bar in Bratislava belongs also has a sauna and swimming pool - so how about a wellness afternoon and ending it with a great drink at the rooftop bar with an even greater view of Bratislava?
UPDATE: Please note that the bar is unfortunately currently closed, so we recommend checking the hours before visiting!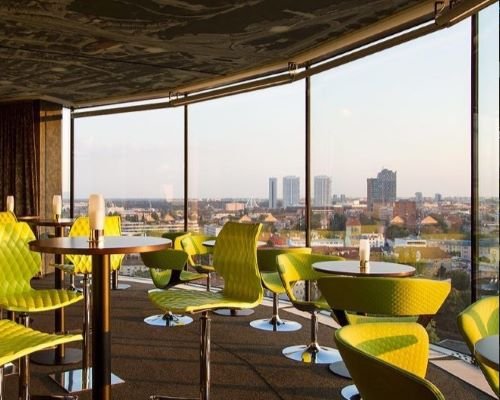 Source: instagram.com/outlookbarandlounge

More tips on places in Bratislava to enjoy a drink or food with an amazing view

Dunajský pivovar
Address: Tyršovo nábrežie, Bratislava
GPS: 48.1372, 17.11264
http://www.dunajskypivovar.sk/
Just a short walk from the SNP Bridge with UFO you can have a drink with a beautiful view right on the waves of the Danube. And especially the beer - after all, when you enter the boat, the first thing that catches your eye is the large metal beer tanks. In addition to these, the deck is dominated by a large sun terrace with a bar and even with a hot tub, and deck chairs or hammocks literally invite you to spend a pleasant evening here with a drink in hand and a view of sun-drenched Bratislava. The restaurant is also connected to the botel, so you can move straight from the bar to the bed.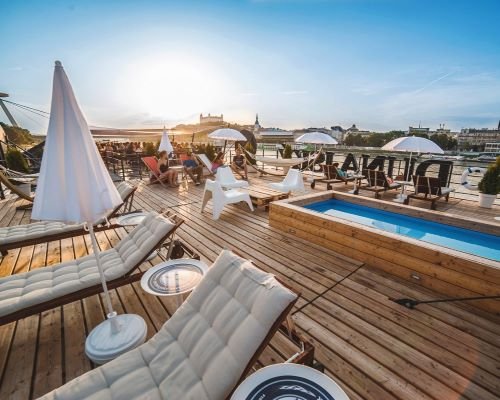 Source: dunajskypivovar.sk

Restaurant Parlament
Address: Námestie Alexandra Dubčeka 1, Bratislava
GPS: 48.14138, 17.09841
https://www.restaurantparlament.sk/
The building in which the restaurant is located probably doesn't impress much at first glance, but once you walk inside, you will find yourself in a pleasant interior with a luxurious view. Especially in the evening, the view of the illuminated SNP bridge with its UFO landmark is worth it. The Parlament Restaurant is situated on a hill right next to Bratislava Castle, so ideal as a part of your visit to the Castle, and we can recommend it not only for a drink, but also for a delicious lunch or dinner. Moreover, with a nice and fast service.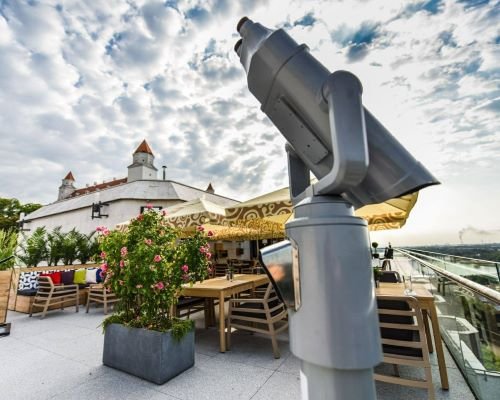 Source: facebook.com/restaurantparlament.sk

VEŽA
Address: Cesta na Kamzík 14, Bratislava
GPS: 48.18262, 17.09498
https://veza.sk/
A great view is also offered by the famous Kamzík TV tower, where a revolving restaurant/café with a bar and 360-degree views of Bratislava (and not only Bratislava) are located. Entrance to the restaurant is charged - but if you have one main course here, the entrance fee is waived. The downside is the location a bit further away from Bratislava, but if you don't mind a little trip, you'll be rewarded with a nice view. We recommend checking opening times in advance.

Map with an overview of the best rooftop bars and restaurants with view in Bratislava