Best hotels close to the Bratislava airport
The airport is not very far from the city, most hotels can be reached by car from the airport in 20-25 minutes. However, if you prefer to stay as close to the airport as possible, we have put together a list of accommodations that are no more than 3 kilometres from the airport, so you can be there in the blink of an eye. You know - traffic jam can make the journey to or from the airport significantly longer, which can lead to a number of unpleasant complications, including, in the worst case, missing your flight. Choosing a hotel or apartment almost next to the airport helps you avoid this situation.
Bratislava hotels:
for everyone and as close to the airport as possible
All the Bratislava hotels listed below can be booked online via Booking.com. They were chosen according to the distance from the airport and independent guests´ reviews. We have also taken into account different types of travellers: some accommodations are more suitable for solo / business travellers, some for families, there are tips for those who do not want to give up comfort and high quality even when travelling and for those who can make do with a room in economy category.
Book your stay in advance via Booking.com
In any case, all these accommodations are suitable for overnight stays and we recommend using airport hotels to those who have Bratislava as a transfer stop or for spending their first or last night in town - especially in case of late or early morning flights. The best or closest hotels / apartments are often fully booked due to the large number of visitors coming to Bratislava. We, therefore, recommend making reservations online in advance, especially during the high season. Moreover, you can get some special offers when booking via Booking.com.
Good to know:
Book your stay via Booking.com and get a free private taxi to the airport! All accommodation listed below should include this option.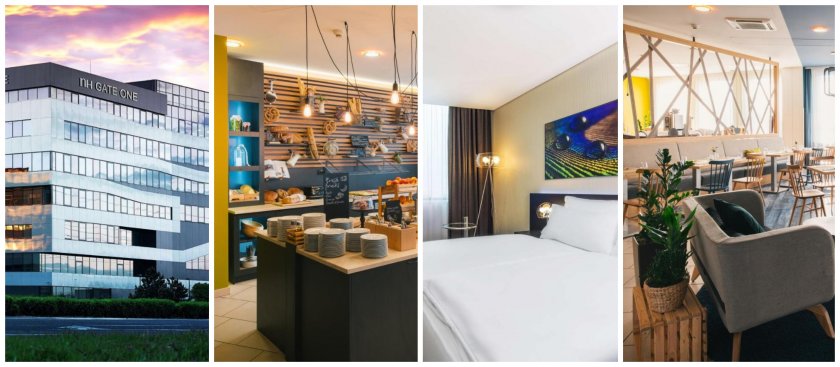 Source: Booking.com | Photos: NH Bratislava Hotel Gate One, Vienna House Easy Bratislava

Bratislava hotels
Distance from the airport: 500 m
Suitable for: all types of travellers
Located just 500 metres from BTS Airport, this hotel is the closest accommodation to the airport. Bratislava city centre is about 10 kilometres away. Don't expect a five-star hotel, but for a 1-night stay it's perfect, as visitors´ reviews pon Booking.com prove.
The hotel offers from double rooms to family rooms or suites with two double rooms, all equipped with a bathroom. There´s 24-hour front desk, luggage storage, free Wi-Fi and free private parking is possible as well. All rooms are non-smoking, pets are not allowed.
The nearest restaurant or grocery store are about 600 metres from the hotel, which is quite far away, but don´t worry, you will not starve - it´s possible to order in advance at least a breakfast, which is served every morning. The closest shopping centre (1 km) is Avion Shopping Park.
How to get there from the airport: bus nr. 61, 10-minute walk from the airport
More info and reservation: HERE
Distance from the airport: 1,6 km
Suitable for: individual travellers, business travellers
The second closest accommodation from the airport: 5-minute drive from the Bratislava airport (1,6 km) or 15-minute drive from the city centre. The Vienna House Easy is situated directly next to Avion Shopping Park, one of the largest Slovakia's shopping areas, which is definitely an advantage.
This accommodation offers good quality/price ratio, a great choice for a 1-night stay as well, especially for business travellers. It's said to be a reasonably-priced conference hotel in Bratislava. Suitable more for solo travellers, although it offers family rooms as well. All are equipped with a private bathroom. Free WiFi, parking space (paid only), conference rooms, restaurant and hotel bar as well as mini fitness room are available. Pets are allowed. Buffet breakfast is included or can be extra ordered.
How to get there from the airport: bus nr. 61 or 63
More info and reservation: HERE
Distance from the airport: 1,8 km
Suitable for: business travellers, guests with higher comfort requirements
If you don't want to give up more comfort, you might like this 4-star hotel located 2 km from Bratislava Airport, next to the Avion Shopping Park as well. In addition to 117 modern rooms (e.g. air conditioner, TV, free coffee/tea maker, minibar and private bathroom included), parking space (for a fee), a restaurant and a terrace with a bar, guests have access to a spa (indoor pool, hot tub, saunas, massages) and fitness centre. The hotel also offers meeting and conference rooms. In the morning, guests can enjoy a buffet breakfast. Although this is a high standard hotel, you can bring your four-legged pets with you. Interesting fact: Want a great night's sleep? This hotel was highly rated for its very comfy beds.
How to get there from the airport: bus nr. 61, bus stop Avion Shopping Park
More info and reservation: HERE
Distance from the airport: 1,9 km
Suitable for: tourist groups, guests with no specific requirements on accommodation type
At first glance, the Avion Hotel may not be one of the most modern hotels, but thanks to its location by the Bratislava motorway bypass, it is easily accessible not only from the airport but also from the city centre and the main routes abroad. The hotel has a large accommodation capacity, which makes him suitable for larger groups of tourists. Rooms offer everything you need for an overnight stay, moreover you can choose from several room categories. The hotel has a restaurant, but all rooms are equipped with a fridge and kettle, too, so you can prepare your own snacks. Pets are not allowed.
Hotel Avion is an excellent choice for visitors to Bratislava who are looking for comfortable accommodation at a pleasant price. The hotel's philosophy is said to be: friendly environment, friendly staff, friendly service, friendly prices. So will you try?
How to get there from the airport: bus nr. 61, 63, 31 bus stop Avion Shopping Park
More info and reservation: HERE
Distance from the airport: 3 km
Suitable for: couples, families, guests preferring rather smaller family-type accommodation
Compared to previous hotels, this one is rather smaller, so it may be a good choice for those who prefer more family-style accommodation. It offers a variety of nice rooms - from basic single economy rooms to family or deluxe rooms. All of them are equipped with a private bathroom. Parking is free in a private car park and guests have access to a sauna. There is a lobby bar with a summer terrace. A buffet breakfast can be enjoyed in the morning for an extra charge. Dogs are welcome, so you do not have to leave them at home.
How to get there from the airport: bus nr. 61, 39, trolley nr. 201, 202
More info and reservation: HERE

Bratislava apartments
Distance from the airport: 2 km
Suitable for: demanding guests, those who like high level of comfort, luxury
Prefer more privacy and sharing walls with other guests isn't right for you? Are you a more demanding guest with higher quality requirements? This apartment will certainly satisfy your requirements. The whole apartment with a cozy balcony is just for you. Equipped with a large hydromassage bath, plasma TV, minibar, free private garage or children's playground. Pets are not allowed.
How to get there from the airport: bus 61, 63
More info and reservation: HERE

Distance from the airport: 2 km
Suitable for: families, guests who like quiet
Are you looking for somewhere quiet where you can relax before your flight departs or after your flight arrives? These apartments might meet your requirements. It offers accommodation in spacious comfortable apartments or studios, all divided into full-equipped kitchen, working and sleeping areas. Parking is free in the secure area, and guests can enjoy the terrace and garden during the summer season. There´s a restaurant as well, but it is open just on demand for some specific events. Pets are not allowed.
How to get there from the airport: bus 61+78
More info and reservation: HERE

Bratislava hostel
Distance from the airport: 2 km
Suitable for: guests preferring budget-wise option
Are you happy with standard accommodation and don't want to spend a fortune? Do you want nothing more than a place to stay for one night? Choose this hostel. It is rather simply equipped, the rooms usually have only a bed, a wardrobe and a table. A bathroom is shared. There is a shared fully equipped kitchen, TV just in the lounge. However, despite the more modest conditions, this is a new, modern and family-run hostel that is sure to make you feel fine. Fun fact: Rooms are named after important sights or places in Bratislava, so you can stay in a room named e.g. UFO, Devin or Danube.
How to get there from the airport: bus 61+39 (bus stop Súhvezdná) or bus 96 + tram 9 (Astronomická)
More info and reservation: HERE