Bratislava Opera, Ballet, Concerts
Opera
The Opera in Bratislava is popular among international visitors - for its quality as well as favourable prices. The Opera of the Slovak National Theatre takes place in two seperate buildings within the centre of Bratislava. The historical building, built in the Habsburg-era, is located right in the center of the city on Hviezdoslavovo Square. The new building, opened in April 2007, is located only a few minutes walk from the historical centre, at the Danube coast.
Opera performances are subtitled in Slovak or German, so it is advisable for English-language speakers to familiarize themselves with the plot in advance. Performances usually start at 7 pm. Find the schedule at the Slovak National Theatre website.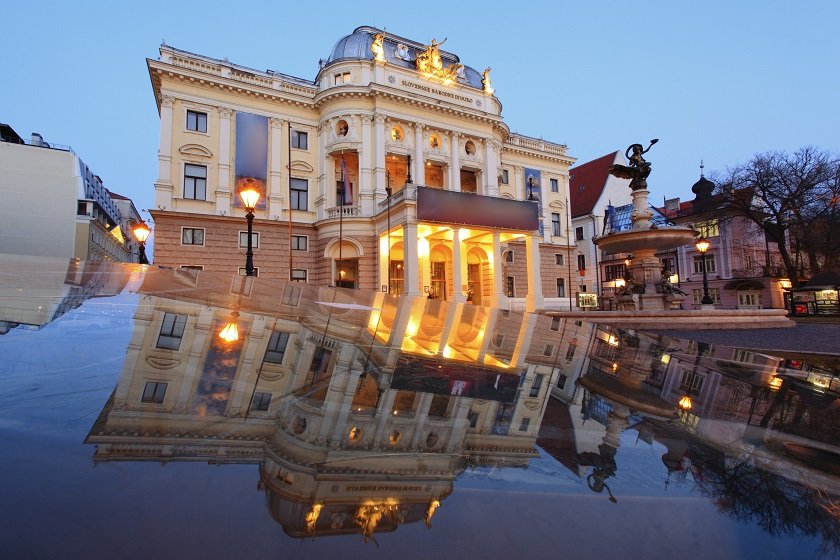 Tickets have an excellent value for their cost and it is important to buy them in advance. Tickets may be purchased up to one month in advance at the Slovak National Theatre Central Box Offices. One is located on Komenské Square (behind the SNT Historical Building, between streets Jesenskeho and Gorkeho). The other is in a new building (office is on Olejkárska street). Both offices are open Monday to Friday 9 am to 8 pm.
Concerts
The Slovak National Philharmonic ensembles have international acclaim and are in their 60th season (Fall 2008). Most concerts are held at the Philharmonic's Reduta building just off the Hviezdoslavovo Square (behind Hotel Carlton).
The Philharmonic consists of these ensembles:
Slovak Philharmonic Orchestra, Slovak Philharmonic Choir, Bohdan Warchal Slovak Chamber Orchestra and other chamber orchestras. The Slovak Philharmonic website contains descriptions of the five ensembles, a searchable schedule of concerts, and an on-line ticket reservations option.
Tickets are costing anywhere between 4 euros per ticket for family concerts and up to 38 euros per ticket for special performances . Tickets can be reserved on-line at Ticketportal and Eventime.
The Box Office is located in the Reduta building and is open Monday through Friday (except Wednesday) from 1 pm to 7 pm and on Wednesday from 8 am to 2 pm. Telephone: +421 2 544 333 51, 544 333 52, Fax: +421 2 544 359 56.