Bratislava Hiking and Biking
Hiking in and around Bratislava
Hiking is one of the favourite pastimes for many Slovaks. The numerous hiking routes around Slovakia are easy to follow thanks to an official system of colour symbols along the way (usually on trees, rocks or lamp-posts). The lenghts of the routes are given as average hiking times at frequent signposts.
There are numerous enjoyable and well-marked hiking roots right around Bratislava (see detailed map of trails).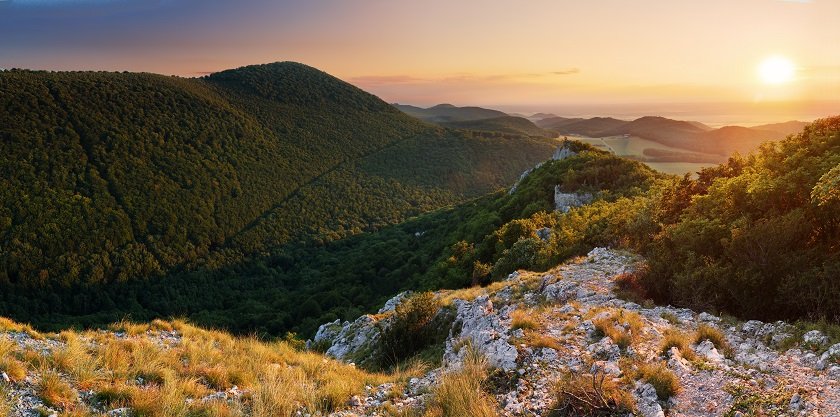 Small Carpathian hiking routes are accesible almost directly from the centre of Bratislava. Take the trolleybus number 203 to the end stop at Koliba. Follow the main road up the hill towards the TV-tower Kamzik. Hiking routes begin from there.
There is also a short summer bobsleigh track close to the TV-tower, which is highly enjoyable for children. During the summer it is open 10 am - 6 pm every day.
To follow a popular hiking route to Marianka, a village close by, go past the summer sled track. Follow red route marks until you reach the blue route. Turn left on the blue route and follow it to Marianka.
There is a nice hiking route to the Devin Castle from the suburb of Dubravka. You can get there easily with trams number 1, 5 and 12. Follow Pod Zahrada street up the hill. Follow yellow hiking route to the Devin Castle. The trip should take around 2.5 hours.
Cycling in and around Bratislava
Cycling is highly popular among Bratislava residents. Around Bratislava there are numerous excellent cycling routes marked with big C signs. Here are some route suggestions for enjoyable cycling trips (you will find further bike trip suggestions in a separate article).
Perhaps the most popular cycling route follows the south (right) bank of the Danube towards Danubiana Meulensteen Art Museum on a Danube dam at Cunovo. The museum is about 15 km away from the city centre and there are numerous cafes and bars along the way. This route is also very popular among roller skaters as there is a road especially for them for a portion of the route.
From Cunovo the cycling route continues to the Gabcikovo dam, which is about 70 km away from the city centre. More enthusiastic cyclists may continue following the cycling route all the way to the Hungarian border at Sturovo (160 km).
There are also excellent cycling routes to Vienna (64 km) through a national park. From the south side of the New Bridge (Novy Most - with the UFO-shaped structure on top) follow the cycling path west towards the Austrian border. After the border post follow cycling path signs to Vienna.
For mountain biking try the cycle paths of Small Carpathian Mountains. The Rohatka down-hill mountainbiking path with artificial obstacles opened in 2005. Excellent routes begin from the TV-tower. The Small Carpatian Wine Road is also highly popular among cyclists.
Bike Bratislava offer bike and scooter rental.