Central bus station Bratislava Mlynske Nivy
The central bus station Bratislava Mlynske Nivy, or shortly Bratislava Nivy, is located in Ruzinov district of Bratislava, approximately 15 minutes walk from the Bratislava city centre. It was reopened in 2021 after extensive reconstruction, which changed this Bratislava bus station into a modern bus terminal providing high-level services.
Address: Autobusova stanica Mlynske Nivy, Mlynske nivy street, 821 05 Bratislava
GPS: 48.14676992801345, 17.12857201301372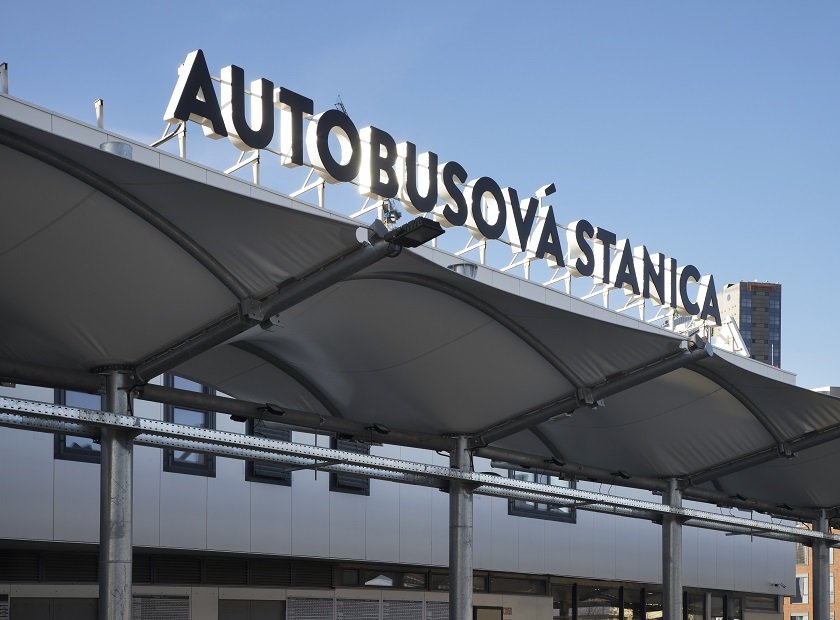 From Bratislava to Vienna, Prague, Budapest and other European cities
The central bus station is a very important transport junction for public transport as well as regional and international bus lines. All the most important bus companies operates there, e.g.:
Slovak Lines - includes buses which connect Bratislava with smaller cities around Bratislava and with the rest of Slovakia.
RegioJet - buses to Brno, Prague, Banská Bystrica and other big cities with free coffee and steward on board.
Eurolines - includes bus connections to nearly all of Europe including Prague, Vienna, Budapest, Brussels, Nice, London, Munich, Geneva, Rotterdam, Milan, Belgrade, Split, etc..
FlixBus - similar servises as the RegioJet bus provider
Other operators - there are other operators also stopping at bus station Mlynske nivy.
For planning of your journey go to the website of the particular companies, where you can find updated bus schedules, or - and what we recommend - check timetables of all buses and book your ticket via Omio travel portal!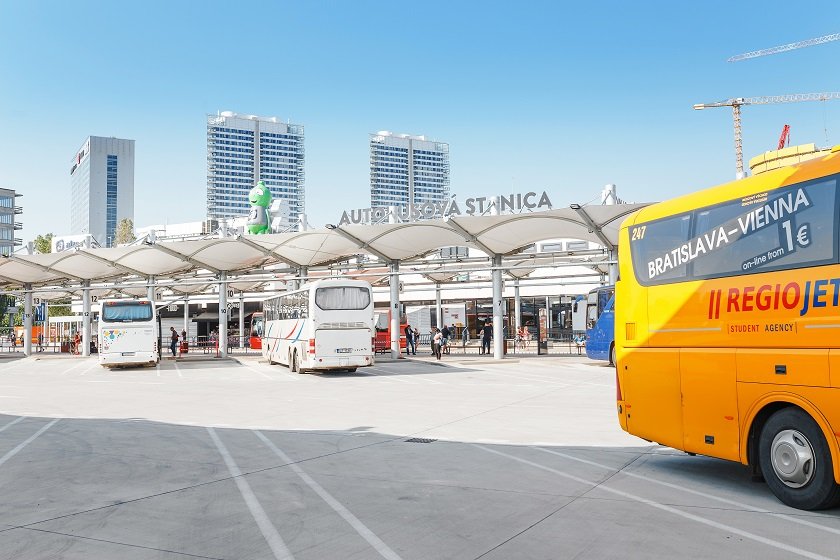 Bus station facilities and services
The main bus station Bratislava is a part of the large modern complex which combines international bus terminal, a shopping centre, a gastro and relax zone, a market and a administrative building. So there is a wide range of services for travellers which turns any ordinary bus travel into unique experience. The bus terminal is open nonstop 24/7 and you can find there e.g. comfortable waiting room, refreshments spots, free wi-fi and toilets, left luggage storage and large underground parking area as well.
Tickets
You can buy tickets at a ticket counter in the bus station building, or directly from the driver (depends also on the type of bus operator and bus line). Tickets for the public transport can be also purchased in red ticket machines at the Nivy bus station, at the newsagent's in the shopping area or in yellow ticket machines at bus stops.
How to get to/from the Nivy bus station
Public Transport
The Bratislava bus station is accessible from nearly all over the city by bus or trolleybus. The bus and trolleybus stops are located in front of and next to the Nivy center building ("Autobusova stanica" stop), on Karadzicova Street ("Maly trh" stop) or on the Mlynské nivy Street and Kosicka Street crossroad ("Kosicka" stop).
If you want to find out how to get to the best Bratislava sights and want to find some direct public transport connection, there´s nothing easier than to use the journey planner on othe official Bratislava public transport website. All the updated timetables are available there.
Bratislava taxis
There are always taxis waiting in front of the central bus station. However, when taking a waiting taxi mind that the price will be double the price you would be charged when taking taxi on call. For more on taxis we recommend to visit our Bratislava taxi tips.