Outdoor swimming pools and lakes
TOP 15+2 places where you can enjoy summer by the water in Bratislava and its surroundings

Bratislava offers visitors a lot and there is still a lot to discover. However, wandering the hot city streets in the summer may not be pleasant and it's good to know where you can cool off, enjoy swimming in Bratislava or just relax by the water. That's why we've prepared an overview of outdoor swimming pools in Bratislava. We haven't forgotten about Bratislava lakes, too, which offer great natural bathing.
At the end of this article you will find a map with the exact location of all mentioned places.
Are you interested in indoor swimming pools in Bratislava as well? Or do you prefer saunas? We have thought about them too and have dedicated a separate article to them.
Last update: July 2022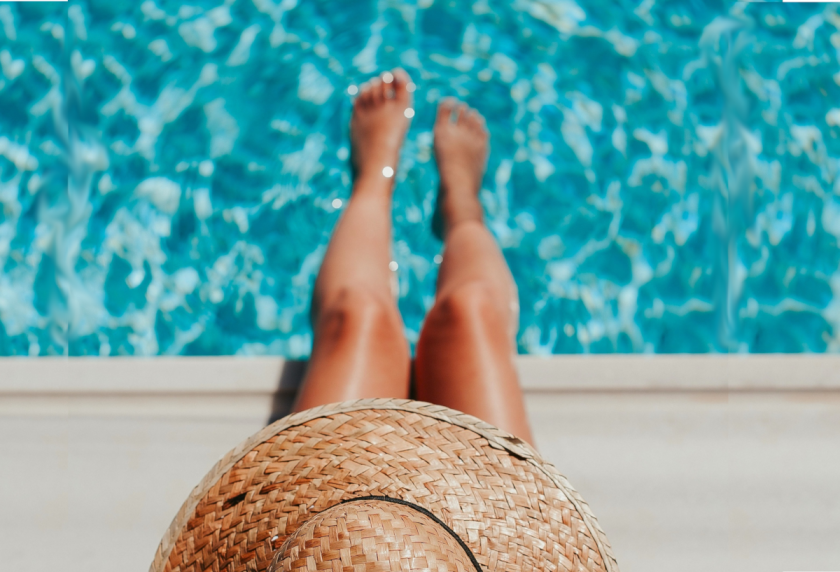 1. Outdoor swimming pools Bratislava

Swimming pool Delfín
This swimming pool is situated right in the centre of Ruzinov district and therefore very well accessible. There are three pools - a swimming pool, a pool with attractions and a children's pool. There is also a playground, buffets and a the highlight - a new water slide kamikaze.
https://kupaliska.bratislava.sk/#swimming-pools
Swimming pool Tehelné pole
This swimming pool is definitely worth visiting, it is one of the most beautiful and most famous areas in Bratislava. Situated in the wider centre of Bratislava near the ice stadium, it offers three outdoor pools, including a swimming pool and a children's pool. There is also the possibility of renting sun loungers and an elevator for disabled persons for easier access to the pool.
https://kupaliska.bratislava.sk/#swimming-pools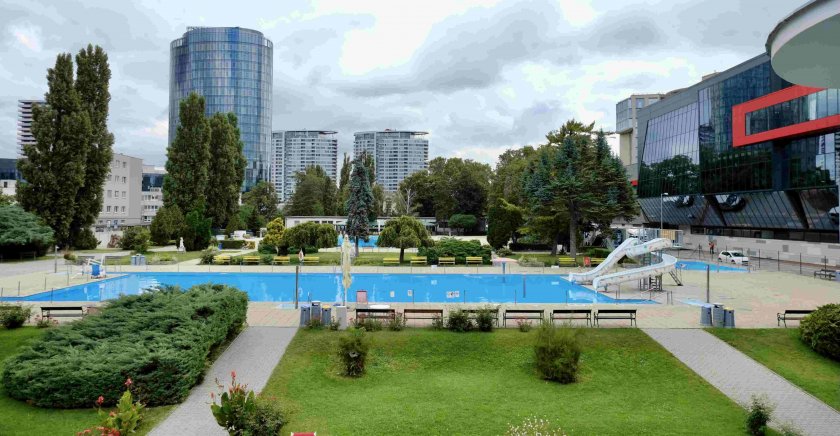 Image source: starz.sk
Swimming pool Lamač
The newly opened and reconstructed swimming pool in Lamač has three outdoor swimming pools: a swimming pool, a recreational pool and a children's pool. The swimming pool area is smaller, but offers great refreshment as well. Sports enthusiasts will find there table tennis tables, beach volleyball and children's playground. The whole area is barrier-free.
https://kupaliska.bratislava.sk/#swimming-pools
Swimming pool Rosnička
Summer swimming area with 3 swimming pools, surrounded by forests and located directly between the Dúbravka and Karlova Ves districts. Especially the little ones will enjoy a new triple slide. During summer there might be some accompanying animation programs for its visitors. A sauna and some sports playgrounds are available as well.
https://kupaliska.bratislava.sk/#swimming-pools
Swimming pool Krasňany
There are 2 swimming pools - a big one and a small one for kids. This swimming pool is likely to undergo a major reconstruction, during which the area should be modernised and the swimming pool could also be used in winter thanks to the roofing in the form of a seasonal inflatable shelter.
https://kupaliska.bratislava.sk/#swimming-pools
Swimming pool Rača
Located in the Knížková Valley, on the outskirts of Bratislava Rača district, this place offers a large 50m swimming pool and a small children's pool with a water mushroom.
https://kupaliska.bratislava.sk/#swimming-pools
Tip:
For all the above mentioned swimming pools it is possible to buy tickets
online
. You can avoid waiting in line at the ticket office, and at the same time there can be some discounts.
Swimming pool Matadorka
The pool has undergone reconstruction and modernisation and is therefore popular by citizens. Moreover, it is the only swimming pool in Bratislava with an outdoor 50m Olympic swimming pool. There is a smaller 25m pool with a water slide and another one for the smallest. The water is heated with a constant temperature. The area offers good facilities for families with children - there is a tent with toys where children can play or are entertained by an animator, an area for mothers to breastfeed and much more. Services include free parking or Wi-Fi as well.
http://kupaliskomatadorka.sk/
Swimming pool Ekoiuventa (Mičurín)
The revitalised area near Slavín offers a 25m pool and the capacity is limited to 150 people. This swimming pool is managed by the Ministry of Education, Science, Research and Sport of the Slovak Republic, however it´s open to the public every day.
https://www.facebook.com/KupaliskoEkoiuventa/
2. Bratislava lakes and natural bathing

Sports and recreational area and natural swimming pool Zlaté piesky
Probably the most frequently visited sports and recreational area is located in Ruzinov. Visitors can enjoy swimming in extremely clean water or relax on a sandy beach. For those interested in sports, there are a variety of options - tennis courts, volleyball courts, playground for streetball and minigolf, a children's playground, boats and pedal rental etc. Accommodation is possible in autocamping, cabins or hotels. During the summer, cultural and music events are held in the area. Lovers of extreme sports can try wakeboarding.
Anyway, do you like parties, fun, adrenaline or just have a lot of fun with your fellows? Then you should definitely visit Wakelike. It´s a part of Zlate piesky lake well-known especially among young people. This place doesn't fall asleep even after sunset, on the contrary, the biggest party is just getting started!
https://intercamp.sk/
Holiday resort Senec Lakes
Senec is a very well known holiday resort especially by foreigners. Originally formed by 5 separate lakes, the large water area offers now a wide spectrum of attractions and services for visitors: many sports playgrounds, sports equipment rental, during summer season music and entertainment events are organised there. Accommodation ranging from economy tourist class to high level hotels is a part of the area as well. On the north side of the Sun Lakes there is a popular aqua park with plenty of water attractions.
https://slnecnejazera.eu/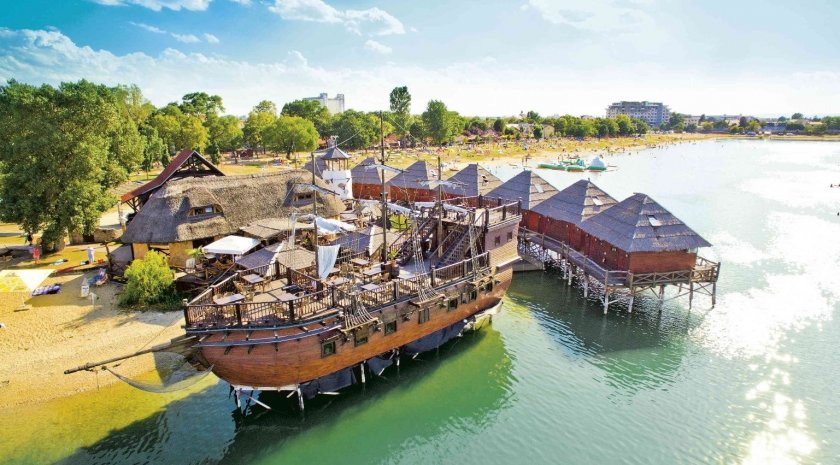 Image source: bratislavaregion.travel
Čunovo lakes
Čunovo Lakes are located in "Dunajské luhy" approx. 20 km from Bratislava. There are two lakes - Velké Čunovo and Malé Čunovo. It offers crystal clear water and is surrounded by sandy beaches. However, officially, bathing is at your own risk and allowed only in the smaller one because of the protected area. Don´t be surprised, this spot is popular with nudists as well. Close to the lakes there is also a large water sports complex with e.g. an artificial water channel, where Olympics athletes train. In addition to water sports, Čunovo offers many adrenaline activities.
Kuchajda
A natural swimming pool located in Bratislava Nove Mesto, which makes it very accessible and is an important recreational area. The location is suitable for organizing various cultural events. In addition to swimming, many sports activities can be enjoyed there. It's a place suitable for children as well.
Vajnory
These lakes formed by two artificial lakes and connected by a chanell are close to Zlaté piesky. Similarly to Kuchajda, Both lakes were created in the past thanks to gravel mining. The area is mostly used for fishing and skating in winter. The surrounding area is very nice, however, swimming is possible at your own risk.
Veľký Draždiak
Another lake created thanks to gravel mining with bathing at your own risk. In addition to swimming and bathing, it is also used for fishing and sports activities - riding on bicycles and kayaks. The lake is also conveniently located in Petržalka district.
Rusovce lakes
One of the easily accessible recreation areas and therefore popular especially by Bratislava citizens, the same goes for cyclists and inline skaters. The lake itself cannot be reached by a car. If you prefer to swim naked, many nudists come here, too.
IMPORTANT: Swimming in lakes Kuchajda, Čunono, Draždiak, Vajnory and Rusovce is at your own risk and responsibility or may be restricted in some way. We recommend checking the current restrictions in advance.

Other swimming tips near Bratislava

Natural swimming pool Borovica
This swimming pool lies approximately 20 minutes from Bratislava and differs in fact that no chemicals are used to keep water clean, it is filtered only by water plants. Therefore it is a good option for people with sensitive skin or children.
Košariská lakes
Three lakes created thanks to gravel mining located quite close to Bratislava are a pleasant recreational area today.

Information for nudists
In Slovakia there are no official public or private nudist areas or swimming pools for nudists. There is a natural beach around Rusovce, as well as on the unfenced side of Zlaté Piesky. Nudists visit both Košariská and the sandbar behind the Senec railway line. Because there is no designated nudist area, nudity can still be punished, because it can be punished as an offense against public order. If a nudist causes a public nuisance and someone notifies the police, the nudist can be even fined.

Map with an overview of all tips where to swim in Bratislava
(outdoor as well as indoor - select which ones you want to display)