Train Station Petrzalka
The Petrzalka train station is located in Bratislava within the borough Petrzalka, between Kopcianska Street and Panonska Road. It provides direct trains to Vienna, Austria as well as to other international and domestic destinations.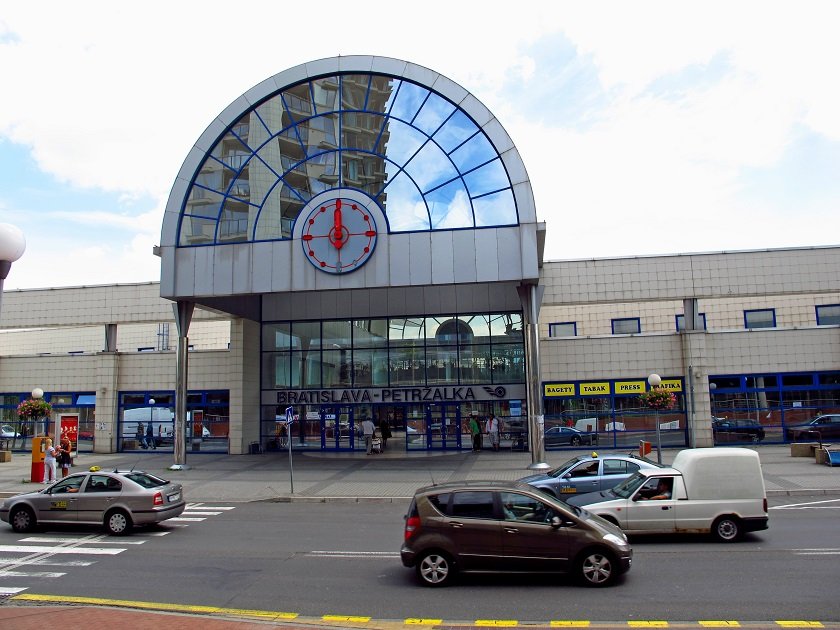 The train station was built in 1897, and it received major renovations in the 1990s. From 1914 – 1945, it was a station of the train/tram hybrid which led from Carlton Hotel on Hviezdoslav Square in Bratislava to Vienna-Mitte Station. In the future, it is planned that this station will be a part of the European net for TGV trains, connecting Bratislava with Paris and Munich.
Train Schedules
Arrival and departure times may be checked online. The language of the website may be switched to English or German by clicking on the respective language in the lower right-hand corner of the homepage. To check the schedule of this train station, one should select Bratislava, Petrzalka as the departure location.
Access
The train station is easily accessible by several city buses. The lines 59, 80, 91, 93, 94, 99, 191, N80, and N93 stop at the Petrzalka train station. The buses 93, N80, and N93 also connect the Petrazalka train station with the main train station.
Station Facilities
The station offers newspaper stands, fast-food, ATM machines, an information office, and luggage storage facilities.
Taxis
During the day, taxis wait in front of the station. However, the price for taking a taxi waiting in front of the station costs approximately double the price charged when ordering a taxi over the phone. For more on taxis, visit Bratislava taxi tips.