Bratislava Petržalka Train Station
The Petrzalka train station is located in Bratislava within the borough Petrzalka, between Kopcianska Street and Panonska Road. It provides direct trains from Bratislava to Vienna, Austria as well as to other international and domestic destinations. Moreover, it is planned that Petrzalka train station will be a part of the European network for TGV trains, connecting Bratislava with Paris and Munich.
Address: Kopčianska, 85101 Bratislava Petržalka
GPS: 48.121776095933605, 17.098795768593465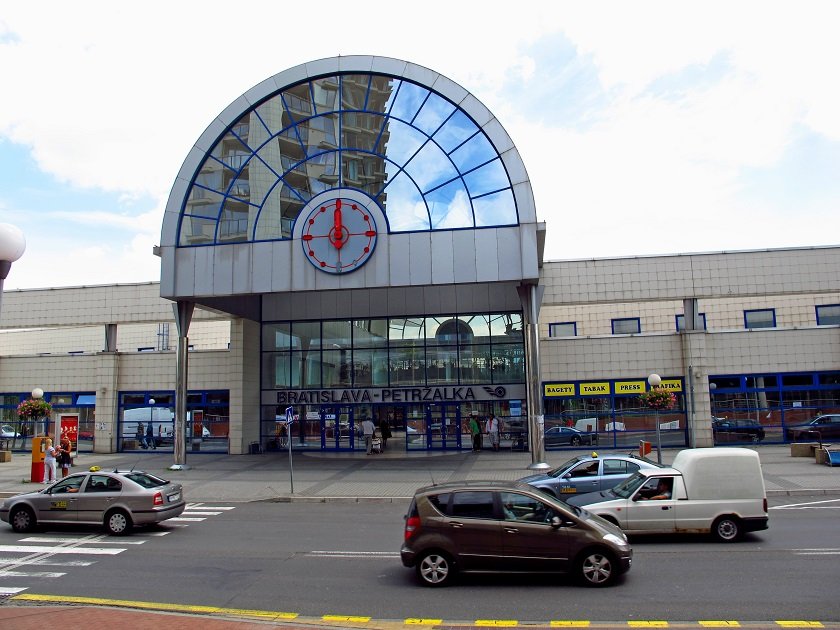 From Vienna to Bratislava by train
Petržalka train station is known mainly for its direct train connections to Vienna. More precisely, Petržalka is the final station. Trains to or from Vienna leave from there practically every hour and the journey takes less than an hour, so if you´re thinking of travelling from Vienna to Bratislava by train, or vice versa visiting Bratislava from Vienna by train, it is likely that Petrzalka will be your station of departure or arrival. More information on getting from Bratislava to Vienna can be found here.
Train schedules
Arrival and departure times can be checked online. To check the schedule of this train station, it's necessary to select Bratislava Petrzalka as the departure location. On this website you can also find online information boards from the particular train stations in Slovakia or the current location of all trains, including delays.
Train station facilities
Bratislava Petrzalka station offers newspaper stands, fast-food, ATM machines, an information office, waiting room, toilets or luggage storage office.
Tickets
Tickets can be purchased directly at the train station, or you can buy them online when searching for a train connection here.
How to get to/from Bratislava Petrzalka train station
Public transport
The train station in Bratislava Petrzalka is easily accessible by several city buses. The lines number 59, 80, 91, 93, 94, 99, 191 and night buses N80, and N93 stop at the Petrzalka train station. Buses 93, N80 and N93 also connect Petrzalka with the main train station Bratislava Hlavna stanica.
Taxi
During the day, taxis are waiting in front of the Petrzalka station. However, the price for taking a taxi waiting in front of the station costs approximately double the price charged when ordering a taxi over the phone. For more on taxis, visit Bratislava taxi tips.