Indoor swimming pools and saunas
TOP 10 + 9 tips where you can swim all year round, have fun by the water or just relax in the sauna in Bratislava

Last update: July 2022
Bratislava offers visitors a lot and there is still a lot to discover. However, if the weather isn't great, you want to play some sports or you need to recharge your batteries, spending some time by the pool or in the sauna can be a good idea. Where can you enjoy swimming in Bratislava, relax by the water or let the kids have fun? In this article we have summarized for you an overview of Bratislava swimming pools, specifically indoor swimming pools. The second part is dedicated to saunas in Bratislava, which are worth visiting.
At the end of this article you will find a map with the exact location of all mentioned places.
Are you interested in outdoor swimming pools in Bratislava as well? Or do you prefer natural bathing and lakes? We have thought about them too and have dedicated a separate article to them.
1) Aquapark Bratislava
Aquapark Senec
Aquapark Senec is a recreational and relaxing water world situated around 30 minutes by car from Bratislava, in the famous resort of Sunny Lakes - North in Senec. It includes several pools, the number of which increases even more during the summer season, and attracts especially children to a number of water attractions. There is an outdoor pool with heated water and therefore opened in winter as well. The complex offers a wellness center with saunas and massages. If you are looking for a place where your children or yourself can have fun, a water park is the right choice.
https://www.aquaparksenec.sk/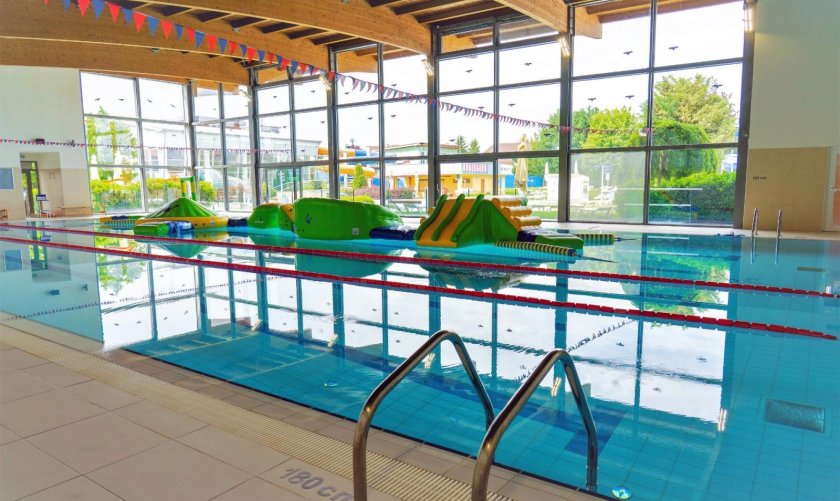 Image source: aquaparksenec.sk

2) Indoor swimming pools Bratislava
Swimming pool Pasienky
The indoor swimming pool at Pasienky is located in a sports complex near the Polus City shopping centre. It is the largest public indoor swimming pool in Bratislava offering two swimming pools (50m and 25m), therefore very popular. A total of 8 swimming lanes are divided for the public, sports training and fast swimmers. There is also a sauna and a restaurant. Moreover, the swimming pool is very well served by public transport.
http://www.starz.sk/plavaren-pasienky/os-1002
Swimming pool Petržalská, Bratislava - Petržalka
After reconstruction the newly opened, modern sport and relaxation area. Sports-minded visitors can enjoy the 25-metre swimming pool divided into 5 swimming lanes. However, if you just want to relax in the warm water, you will appreciate the relaxation pool with a pleasant water temperature of 35 °C. Water jets, a water spout, an air spout, an air seat or air beds will make your stay in the pool more enjoyable. There is a whirlpool with hot water and massage jets, a pool for children, a toboggan and a sauna world.
https://petrzalka.sk/plavaren/
Golem Swimming Pools Relaxx, Central and Bory
The Golem fitness centre network operates a total of three pools. The Swimming Pool Relaxx (20m), Central and Bory (25m). The Central pool also offers a pool for children and a terrace jacuzzi. The Bory pool was built based on the standards of the International Swimming Association FINA and therefore swimming races and competitions can be organised there. It includes a relaxation and children's pool as well.
https://www.golemclub.sk/sk/bazeny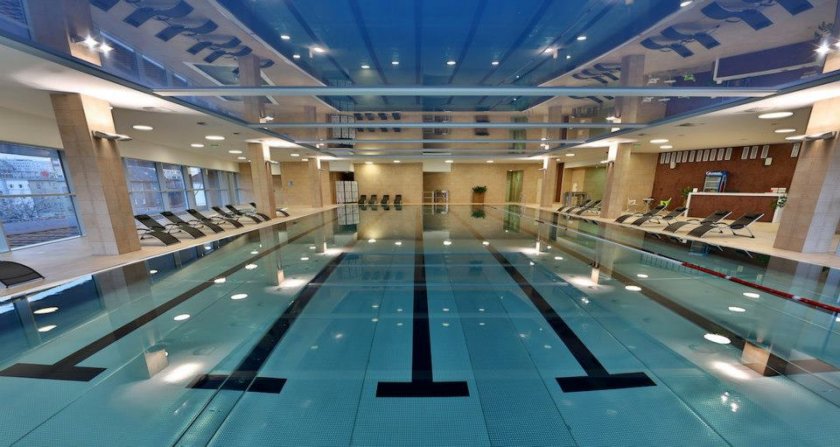 Image source: golemclub.sk
3) Indoor swimming pools in Bratislava operated by a specific organisation (e.g. schools)
Swimming pool Iuventa Bratislava - Karlova ves
The swimming pool is located in the Slovak Youth Institute Iuventa - an institution for the leisure time of children, youth and adults directed by the Ministry of Education of the Slovak republic. It has its own 25m indoor swimming pool and a sauna that is open to the public.
https://www.iuventa.sk/sluzby-pre-verejnost/plavaren-a-sauna/
School Swimming pool Majerníkova, Bratislava - Karlova ves
Located in Bratislava-Karlova ves district, this swimming pool offers 25m with 6 swimming lanes and a small 4x4 metres non-swimming pool. We recommend checking the website for current opening hours. The swimming pool is a part of the school, therefore it can be closed e.g. during holidays.
https://www.plavarenmajernikova.sk/
Swimming pool Na Pantoch, Bratislava - Rača
Newly-reconstructed 25m swimming pool, which is a part of the Secondary Vocational School of Hotel Services and Commerce in Rača district. It is used mainly by students and sport clubs, but open for public swimming as well. However it's quite far away from the city center.
https://sos-panty.edupage.org/text22/
Swimming center Gaudeamus, Mokrohajska
The pool is part of a community rehabilitation centre and offers two 25m pools and a smaller relaxation pool.
https://www.mokrohajska.sk/web/bazen/bazen-info/

4) Swimming pools in Bratislava as a part of hotels
Many hotels in Bratislava also offer some wellness services, including a swimming pool. However, these are usually exclusively for hotel guests. Below are the ones where it should be possible for the public to swim.
Wellness centre with a swimming pool in the Hotel Nivy
Hotel Nivy is not only a popular accommodation in Bratislava, it includes a wellness center with a 25m swimming pool, another swimming pool with water attractions, 3 whirlpools and a cooling pool. There are also 5 saunas (aromatic herbs, salt sauna, Turkish sauna, Finnish sauna and infrasauna). Do not expect any pompous luxury, however, visitors can thus find there swimming facilities, relaxation and regeneration in one place. It is usually less crowded as well.
http://hotelnivy.sk/en
Hotel Devín
Another hotel where you can use not only the swimming pool but also a range of wellness services is Hotel Devín. There is an indoor heated pool with a counter-flow, a Finnish (dry) sauna or a steam sauna, the hotel offers massages and fitness as well.
https://www.hoteldevin.sk/relax/wellness/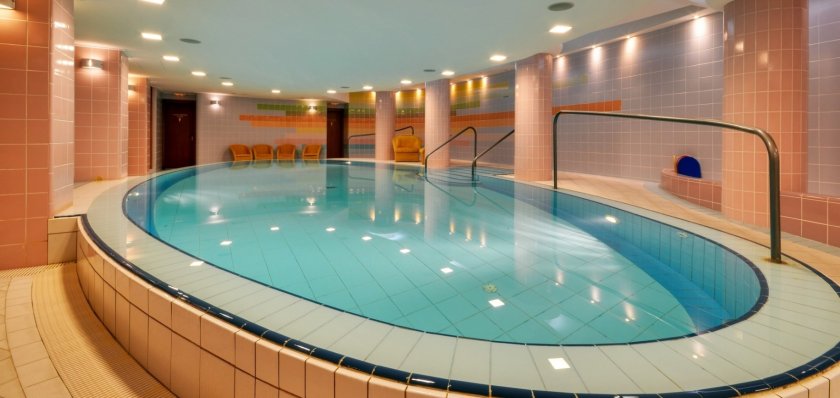 Image source: hoteldevin.sk

Other options, especially for families
There are several family swimming centres in Bratislava operated by Swimming Academy, which are primarily intended for swimming lessons with children, but during certain hours they are also open to the public. All offer light salt water with a minimum temperature of 32 °C, a children's sauna and a mini café.They vary in pool size, only the larger ones are listed below.
Family swimming centre Baronka https://plaveckaakademia.sk/plavanie-baronka
It is located in the building of the Apartments Baronka and includes a sauna as well.
Family swimming centre Devínská https://plaveckaakademia.sk/plavanie-devinska
Bratislava saunas
Saunas in Bratislava are usually a part of indoor swimming pools - most of the swimming pools mentioned above include a sauna as well. Moreover, In Bratislava there are some large sauna complexes. Some Bratislava hotels offer saunas procedures as well, however, usually only for their guests.
Saunia Aupark Bratislava
Newly-opened and definitely the largest sauna complex in Bratislava. It includes 8 saunas ( Finnish, salt, tropical and herbal saunas, as well as a steam bath and a sauna with a so-called steam blast). As for cooling, there are 4 types to choose from and there is also a relaxation area, a terrace and a bar. Moreover, visitors of a glass-enclosed ceremonial sauna can enjoy an amazing view of UFO and Bratislava Castle. Admission is unlimited, so you can spend as much time as you like in the saunas.
https://www.saunia.cz/aupark-bratislava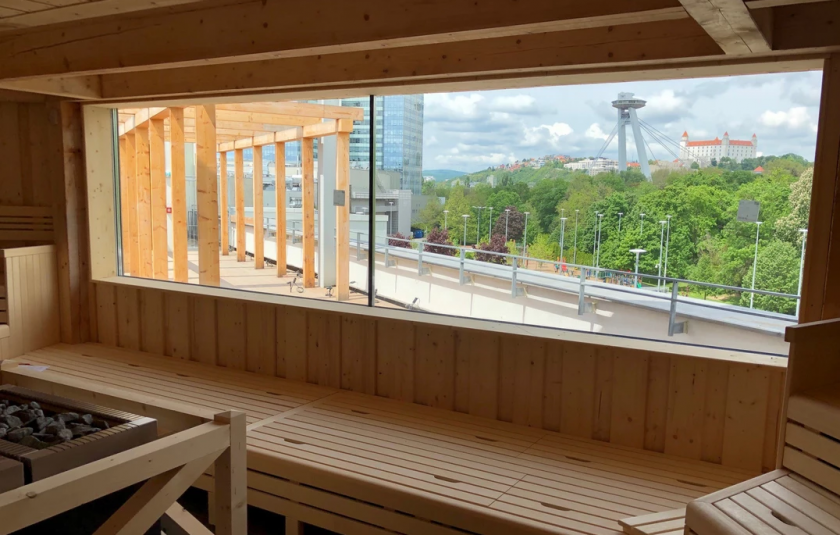 Image source: saunia.cz/aupark-bratislava
Zion SPA
Right in one of the best hotels in Bratislava, Grand Hotel River Park is a wellness and spa worthy of attention. In addition to the 3 swimming pools, there is also a Finnish sauna, infrared sauna and steam room.You can cool off in the cooling shower or ice fountain. As a bonus, you can enjoy panoramic views of the Danube River.
https://zionspa.sk/prevadzka/zion-spa-luxury-grand-hotel-river-park
Saunička
A complex of two branches - Saunička Prievozská and Saunička Bory. New, modern facility offering a Finnish sauna, an infrared sauna, a relaxation room with sun loungers, a shower and a cooling bath. After the sauna procedure you can enjoy some refreshment in a relaxation room. A private sauna is possible as well.
https://saunicka.sk/
Wellness in Golem Fitness Clubs
In addition to swimming pools, all the Golem Clubs offer wellness services as well. The widest range of services can be found at Golem Club Relaxx. You can try 4 saunas (Finnish, herbal, infrared and steam), relax in the whirlpool or enjoy massages.
https://www.golemclub.sk/sk/sluzby/wellness
Elysium SPA
A unique concept of saunas or city baths.It consists of two parts: an indoor sauna underground and an outdoor part on the terrace. They combine relaxation with unique design and technology as well - the booking system works via mobile app.
https://elysiumspa.sk/en/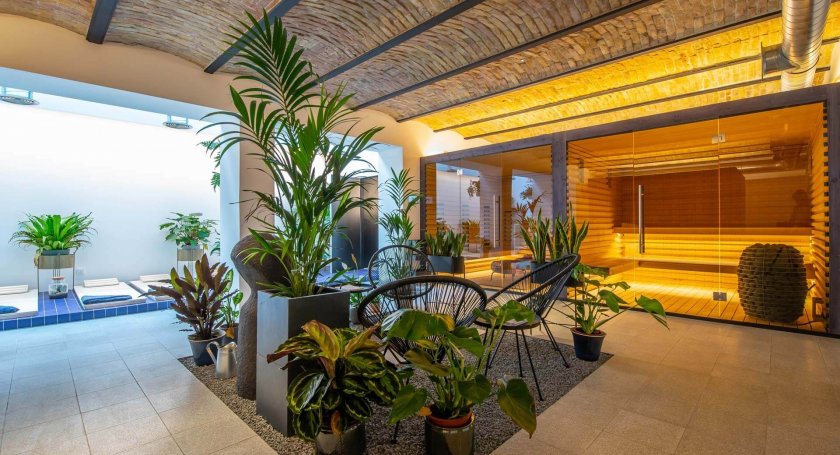 Image source: elysiumspa.sk
7SPA
Sauna in a contemporary design with two massage rooms, a Finnish and steam aroma sauna, Jacuzzi, Vichy shower, fitness area with modern equipment for cardio and weight loss training and a relaxation area. Private entry is possible.
http://www.7spa.sk/en/

Other tips on traditional saunas
Highly recommended to check the opening hours! Some of the saunas may currently be out of service.
Sauna Delfín, Bratislava Ružinov
finnish, infrared and steam sauna, massages
Sauna Rosnička, Bratislava Karlova ves
finnish sauna, steam, whirlpool bath, pool with cold water, massages
Sauna Neptun, Bratislava - Pasienky
finnish, steam and infrared sauna, relaxation pool, cooling pool

Map with an overview of all tips where to swim in Bratislava
(outdoor as well as indoor - select which ones you want to display)