Best Burgers in Bratislava
Top 10 tips from locals
Where are the days when the burger was only associated with fast food chains and considered "empty calories" of poor quality. Quality meat, often from local suppliers, crusty buns and homemade sauces have elevated this dish from junk food to gastroporn. Of course, it's still a calorie bomb, especially with fries, but resist this temptation! We've put together tips for the best burgers in Bratislava where you should definitely pop in when you want to enjoy a real burger, sit a little or just have a cheatday. And honestly - these burgers are really worth it.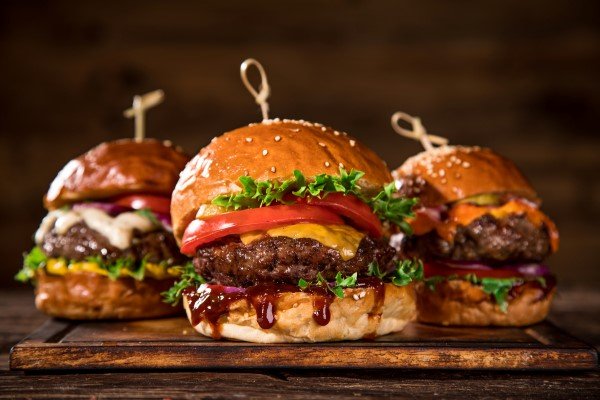 Roxor
Address: Šancová 19, Bratislava
GPS: 48.15758, 17.11743
http://roxorburger.sk/
Roxor has been offering great burgers in Bratislava since 2015, and if you ask anyone where to go for the best burger in Bratislava, they're pretty likely to mention this burger spot. What's behind it? Perfectly juicy beef that they buy directly from the farm, their own perfectly matched sauces and pickles, or fresh homemade buns from their former waitress who opened a bakery. Simply every component of the burger is fine-tuned to perfection. There are 6 burgers on the menu, one of which is vegetarian. Beers from small breweries are on the offer as well.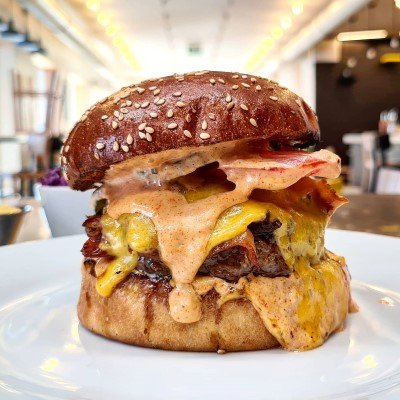 Source: facebook.com/roxorbrgr

BeAbout
Address: Prešernova 4, Bratislava
GPS: 48.14042, 17.11531
https://www.beaboutburger.sk/
An American-style burger restaurant in Bratislava, which offers BBQ chicken, tortillas, sandwiches or burritos in addition to burgers. The main role here is, of course, played by homemade burgers. And there's plenty to choose from - there are around 15 types of burgers on the menu, with both beef and chicken. Plus one speciality of the month. The portions are large, as the restaurant itself, so there are always some free seats. BeAbout was one of the first burger restaurants in Bratislava and we have to say that it still maintains its level and good price/performance ratio.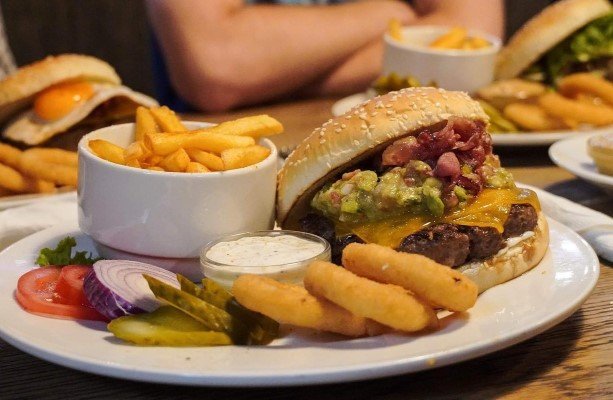 Source: facebook.com/beaboutburger

Quinsboro
Address: Obchodná 48, Bratislava
GPS: 48.14789, 17.11136
https://www.facebook.com/quinsboro/
A relatively new burger spot that brought the American "smashed" burgers to Bratislava. The interior impresses with its industrial style - and not just any style. Each piece of furniture has its own history - for example, the table legs are made of water pipes or tractor gears, the lamps are from a Russian ship factory. And there are more such treasures. What about the burgers? Forget stories about handmade burgers made with love. In Quinsboro they use special technology from the USA, which both speeds up the preparation and guarantees that all burgers taste the same - just as delicious! This place is a celebration of American fast food culture and "junk food" - in the best sense. In terms of quality and taste - these burgers are really among the top burgers in Bratislava.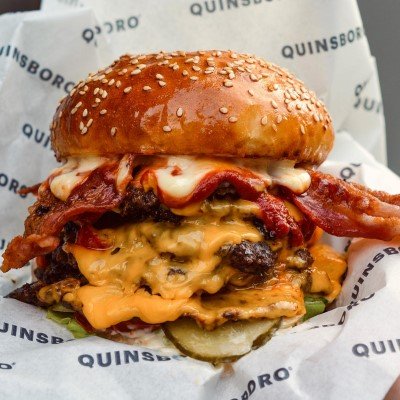 Source: facebook.com/quinsboro

Krasty Tasty Burger
Address: Miletičova 69, Bratislava
GPS: 48.14759, 17.14166
http://www.krastytasty.sk/
Krasty Tasty Burger was established by separating from another well-known establishment in Bratislava - Burger Bar. The great advantage is the location just a short walk from the main bus station Mlynské Nivy. All meat comes exclusively from Slovak organic farming. The trump card of this place are the sauces, especially the krasty mayo dressing, and right behind them the crispy bun. In addition to burgers, the restaurant specializes in typical American cheese steaks.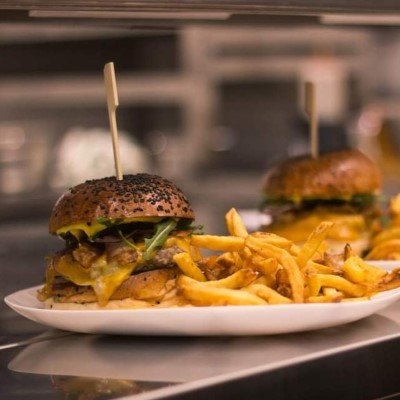 Source: facebook.com/KrastyTasty

Regal Burger Bratislava
Address: more branches, see map or overview on the website
https://www.regalburger.com/
Regal Burger has been associated with burgers for a few years not only in Slovakia but also in the Czech Republic. In particular, it operates 7 burger restaurants in Bratislava. And even though it may seem that the burgers here are made like in a factory and so taste like they come from any other fast food chain, you will be pleasantly surprised. Although there may be some differences from one branch to the next. We recommend the Regal Burger in Bratislava on Palackého Street or the Rooftop by Regal branch, where you can enjoy your burger even with a great view.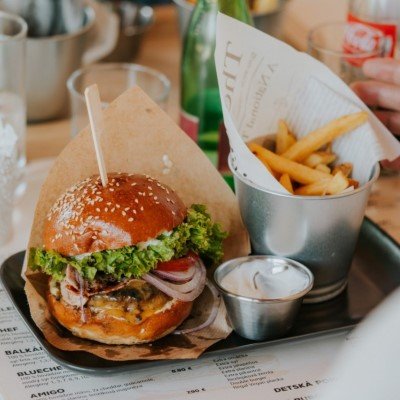 Source: facebook.com/regalburger

If you don´t mind going just outside Bratislava
Karslburger
Address: Kresánkova 3, Bratislava - Karlova Ves
GPS: 48.15106, 17.04982
https://karls.sk/
For juicy burgers, we recommend going a little bit outside Bratislava. Here, too, they pay attention to the quality of individual ingredients and careful selection of suppliers. The burgers are great not only in ingredients but also in size. In addition to the burger itself, the fries and coleslaw salad also receive praise from us. And of course the nice staff.

Source: facebook.com/karls.sk

Estévéčka
Address: Staré Grunty 26, Bratislava - Karlova Ves
GPS: 48.1558, 17.07151
https://estevecka.sk/
Estévéčka is a certainty that has held its position among the best burgers in Bratislava for years. Two friends are behind the restaurant, originally focusing on craft beers and appetizers, but the real success came with the transformation to a burger restaurant. Nowadays, the menu includes not only delicious burgers, but also wraps, bowls, soups and ready meals. You will be satisfied not only with the food, but also with the overall pleasant atmosphere and very nice staff.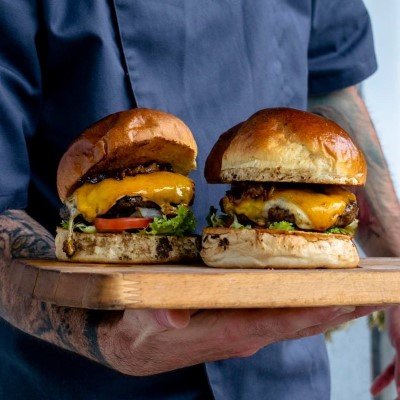 Source: facebook.com/estevecka

No time? Enjoy a burger standing up or on the go
Hambáč
Address: Trnavská cesta 41/A, Bratislava
GPS: 48.16472, 17.14628
http://hambac.sk/
Can you get by without comfortable seating and can enjoy a burger standing up? Or do you have no time but a big appetite for a burger? Then stop by the bistro on Trnavská Street. This burger food truck doesn't pretend to be a fine dining restaurant, you get exactly what you order. But whether it's a classic burger, a "two-handed" burger or a vegetarian option, this kind of punk-style burger in Bratislava won't disappoint. The owner enjoys his work - and you'll know it after the first bite.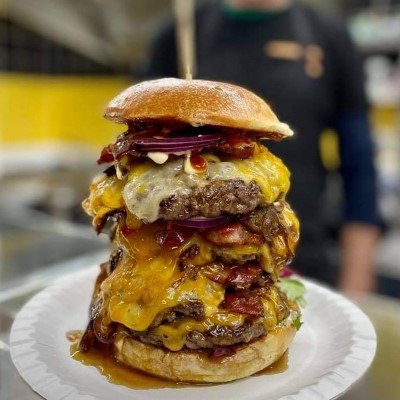 Source: facebook.com/hambacsk/

NIONburger
Address: Prešovská 38, Bratislava - Ružinov
GPS: 48.15976, 17.14326
https://www.facebook.com/NIONburger/
A hot new player to the Bratislava burger scene, which has made it to the top burgers in Bratislava in a short time. And we dare to say that in many ways it surpasses even the established burgers in Bratislava. Tastefully tuned burgers, buns from a well-known Bratislava bakery and sauces according to the owner's own recipes. It is his honest approach and love for his work that is behind the success of this food truck.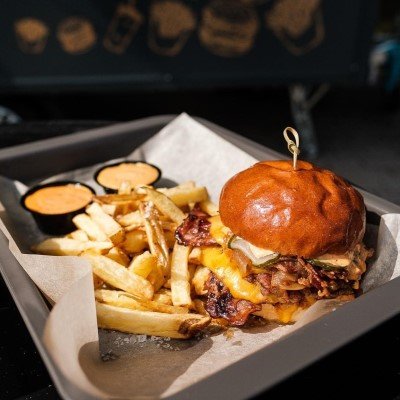 Source: facebook.com/NIONburger

Burger Bar
Address: Továrenská 9, Bratislava
GPS: 48.14425, 17.12281
https://www.facebook.com/burgerbartovarenska
The less space this burger bar offers inside, the more popular it is with tourists and locals. The location near the main bus station Mlynske Nivy makes it even more popular. In addition, the management of this establishment has recently changed and it can be seen on the quality. In a positive way! You can encounter queues here, but the service is fast, so no need to worry about long waits. However, we recommend using the take-away rather.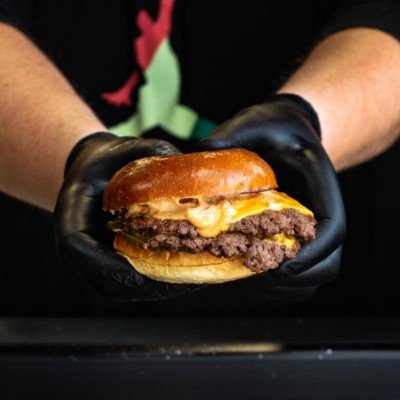 Source: facebook.com/burgerbartovarenska

Extra tip: For a burger not only to a burger house
Mäso od Romana
Address: Račianská 26, Bratislava
GPS: 48.16319, 17.12497
https://www.masoodromana.sk/
This is not exactly a classic burger shop. Better said - this is not a burger shop at all, but a butcher shop. And another of Bratislava's little treasures. In addition to buying quality meat from local farmers, steaks, burgers and other specialties at a high level are prepared there. The prices are also higher, but the fairly prepared meat and large portions are worth it. Good to know: opening hours are limited on some days and the burgers aren't on offer every day!

Source: facebook.com/MasoOdRomana

Map with an overview of the best burgers in Bratislava