Shopping Centres, Souvenirs
Shopping Centres
Bratislava has several large shopping malls. Three of them are located near the centre and accessible by car or public transport. Aupark across the river from the Old Town and Polus on Vajnorska. Eurovea Gallery is the newest of them and is located between the Old Bridge and Apollo Bridge along the Danube River. All of these malls have a variety of shops of all kinds and multiplex cinemas.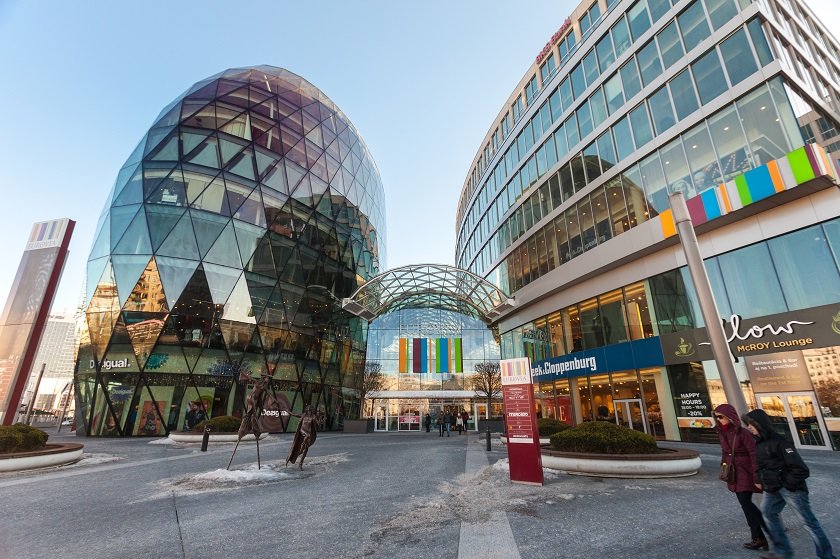 A little further away from the centre, you will find the Avion Shopping Park (near the Airport), featuring an all year open ice-skating rink, as well as the the second newest mall, the Shopping Palace.
Click here for today's Bratislava cinemas listings in Slovak.
Wine Shops
For Slovak wines, try the wineshop Trunk on Zupne namestie (near Michalska), St. Michael's at Michalska or Vinoteka Sv. Urbana on Klobucnicka (near the City Hall). Around the corner on Laurinska, you will find the wineshop Kodrianka (specialising in Moldavian and French wines).
Souvenirs
Souvenirs stalls are located in the Main Square of the Old Town and on Hviezdoslavovo Square in front of the Slovak National Theatre throughout the year. For traditional folk products, also visit ULUV on SNP Square or Obchodna street in the pedestrian zone or their larger shop on Obchodna. In SNP Square near McDonalds you will find the Suvenir SHOP in a stall in an indoor passage way.
On Laurinska in the pedestrian zone, you will find a well stocked glass and crystal shop RONA, selling mostly Slovak glass from Lednicke Rovne. Do not miss the upstairs section accessible through a separate entrance to the left of the shop window. The shop is open seven days a week and Slovak glass and crystal offers an excellent value for money.
The store with sport souvenirs Lacne Dresy can be found on Spitalska street.
Shopping Outlets
The nearest large designer outlets center is McArthurGlen Designer Outlet Center in Parndorf, Austria, some 40 km from Bratislava. The outlet is located directly on the A4 highway at exit 43 (Neusiedl am See), which connects to the main road from Bratislava. The outlet offers a wide selection of designer labels and is open Mondary-Friday 9:30 a.m. to 7 p.m. and Saturday 9 a.m. to 6 p.m.