From Vienna to Bratislava
Last update: March 2023
Do you know that Vienna and Bratislava are the two closest capital cities in Europe? One more reason to visit Bratislava or combine a visit to Bratislava with a trip to Vienna, isn't it?
We have prepared for you an overview of all transport options from Vienna to Bratislava (and vice versa), including their comparison according to certain criteria, their pros and cons. So you can easily choose the right one for you and enjoy your trip from the first minute.
And that´s not all! When clicking on a chosen type of transport, there's detailed information on anything you could ask when travelling that way. These guides were compiled based on our own travel experience as well as frequently asked questions by tourists, so you can be sure that you´ll find anything you might need there: schedules, prices, ticket purchase, places of departure/arrival, whether it is possible to take your four-legged or two-wheels darling and much more!

Note: Although we mostly use the phrase " from Vienna to Bratislava" in the article, all the information is of course valid for the opposite direction, i.e. from Bratislava to Vienna, too.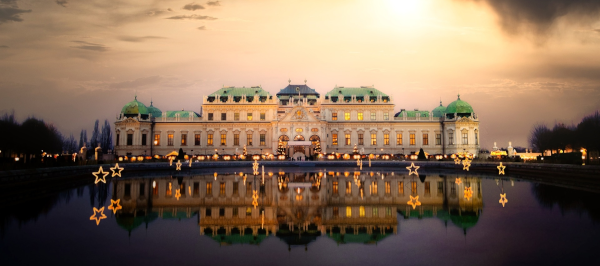 Photo: One of the most iconic monuments in Vienna - Belvedere

Check out all possible connections and book a ticket for your next trip via Omio.
Easy comparison of all transport options
Buses, trains, flights, car sharing
Train, bus, plane ticket in one place
Find and book a ticket at the best price
Filter results
By time, price, departure/arrival place, company
Get your ticket easily, immediately, on the go!

How can you get from Bratislava to Vienna?
As the distance between the two cities is approximately 55 km as the crow flies, there are several possibilities to get from one city to another: by train, by bus, by boat, by taxi, or - if you are a sports enthusiast - even by bike. :) Given the distance, it is obvious that flying is out of the question.

Vienna - Bratislava: What is the best way?
So…Train? Bus? Boat? Or a taxi…? The table below should make it easier for you to decide.
However... Our recommendation? 👉 BET ON THE BUS!🚌
Looking at the table below, at first glance, it's obvious that getting from Vienna to Bratislava BY BUS seems to be the BEST OPTION: it´s fast, there are many bus lines during the day, a wide range of options where to get on and get off and your wallet will not cry after ticket purchase. So if we were in your place, we would choose to travel by bus.
Do you see it the same way? Then check all the necessary information for your journey by bus in our guide or book your seat right away HERE (for Slovak Lines, RegioJet buses) or HERE (if you prefer Flixbus)

train🚅
bus🚌
boat🚢
taxi🚕
bike🚲
Travel time
🕐
🕐
🕐🕐
🕐
🕐🕐🕐🕐
Direct connection?
✔
✔
✔
✔
✔
Flexibility


(Place of departure/arrival)

Bratislava
▪️ Hlavna stanica
▪️ Petržalka

Vienna
▪️ Main train st.

Bratislava
▪️ Airport
▪️ Main bus st.
▪️ Einsteinova str.
▪️ Most SNP

Vienna
▪️ Airport
▪️ Main train st.
▪️ Erdberg

Bratislava
▪️ Twin City Gate,
Rázusovo nábrežie

Vienna
▪️ City Port,
Schwedenplatz

🌍
🌍
Frequency
📶📶📶
📶📶📶
📶
♾️
♾️
Price for a single ticket
💲💲
💲
💲💲💲
💲💲💲💲
1750 kcal
Table: Comparison of transport options from Vienna to Bratislava and vice versa
---

Interested in a more detailed comparison according to the criteria mentioned above? Then read on!👀
🕐 Travel time:
How long does it take to get from Vienna to Bratislava?
In terms of duration, all transport options are almost comparable, there are no significant differences. By train, bus and car you can be there already in about one hour (depending on the place of departure and arrival, number of stops etc.). However, by bus and car (taxi), we have to take into account traffic conditions, which can significantly affect the arrival time. Therefore, if you need to be in Vienna or Bratislava at a certain time, we would recommend a train. By boat it's also a little bit longer, especially if you are going upstream.

🛣️ Is there a direct connection between Vienna and Bratislava?
No matter which means of transport you choose, all connections are direct. In this case, it just matters whether you want to get to the city centre, the main bus or train station or the airport.

📍Flexibility:
Where can you get on / get off?
There is no doubt that a car or taxi offers the highest flexibility in terms of time or place of departure, as well as the destination. A reliable and quality service that we can recommend is, for example, Bratislava Airport Transfers. On the contrary, logically, the train is the most limited in this respect. Buses, however, have their route designed to cover the most important spots both in Bratislava and Vienna - airports, city centres or main bus or train stations. A boat is the least variable way of travelling from Vienna to Bratislava.
📶 Frequency:
How often is there any connection from Vienna to Bratislava?
If we compare the train, bus and boat in terms of the number of connections during the day, the train and bus are undoubtedly the winners. Trains a buses shuttle every hour, sometimes even every half hour, night time is the only exception. Boat schedules depend on the season, usually, they do not operate from November to March. And even during the peak season there are just a few lines per day, sometimes only weekends are covered.

💲Price:
How much does the ticket from Vienna to Bratislava cost?
Travelling by bus seems to be the most budget-friendly option as a one-way bus ticket costs on average €8 or less. By train it's mostly almost €11 or even €14 for a one-way ticket, depending on date and point of purchase. However, return tickets can pay off more on a train as there are special offers like Bratislava Ticket or EURegio Wien ticket for €14/€16 including return ticket or even public transport. Boat tickets are 2x or more expensive than both ways. In case you travel in a group, a taxi might be also acceptable in terms of price.
Tip:
Compare all the options for travelling by train or bus. Omio travel portal offers an overview of all connections, including prices, in one place, making it easy to plan your trip and find the best tickets for you.

Getting from Vienna to Bratislava: And the winner is…
Of course, there are many other criteria by which we could compare all the possible ways of getting from Vienna to Bratislava. However, we think that some areas are highly subjective, and what is very important to someone may be completely irrelevant to others. Therefore we recommend going through the detailed information we've prepared for you on each means of transport and we believe, with our guide it will be easy to choose the best option according to your preferences. Of course, all the information is valid also for ways from Bratislava to Vienna.
👉From Vienna to Bratislava by train
👉From Vienna to Bratislava by boat
👉From Vienna to Bratislava by taxi
However, you already know our recommendation: The bus is the winner.🔝

In conclusion
Do you already know everything you need about the transport between Bratislava and Vienna? Great, but there is much more that is good to know before visiting Bratislava. Don´t worry, our BratislavaGuide is here for you. Just browse through our website and you can´t be better prepared for your trip. And in case you don't find something you would be interested in, just let us know!