How to get to Devin Castle
Devin Castle, but also Devin is NOT part of the city center, but is still easy to get to. Devin, currently a district of Bratislava used to be a separate village. Historically a very important landmark blown up by Napoleon in the beginning of the 19th century, later during World War 2 even becoming part of the Third Reich (Nazi Germany). As the years went on, the village was "absorbed" by the city of Bratislava. This has made it easier for visitors to get to the castle from the capital city. You can get to the castle easily from the Bratislava city center by public transport, by car, or even by boat or hiking.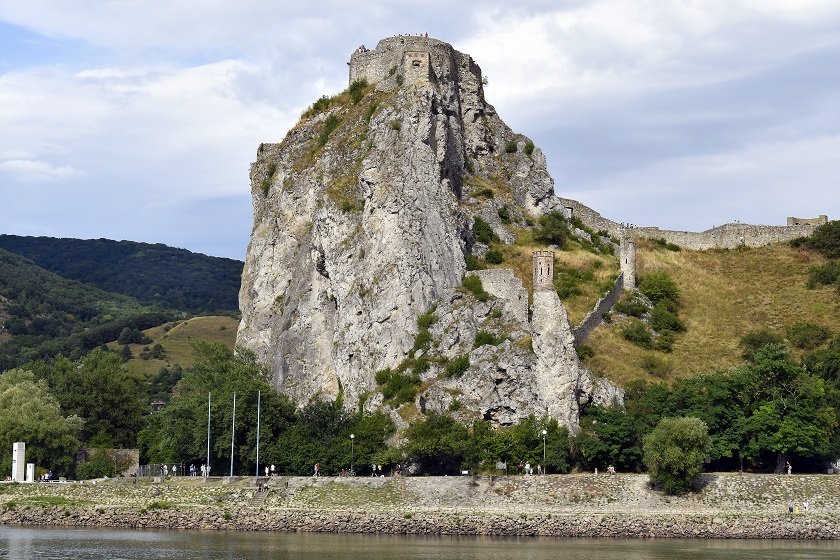 Bus
Bratislava offers a direct bus line to Devin. Here are several options on getting to the castle, depending on the place you travel from:
From city center - First you need to get under the New Bridge (Most SNP) where a bus stop is. This is the easiest way to get to Devin by bus. Take bus 28 to stop "Devin". The trip will last about 20 minutes.
From main train station – Walk 5 minutes down the road which leads to train station to reach the bus station named "SAV". Take bus number 21 and get off at around 8th stop, atfer 20 minutes, on the stop called "Novoveska". Walk around 3 minutes to find a stop called "Uhrovecka". Change for bus number 28 here - don´t forget to hail, as it only stops per request here. See timetable here.
From main bus station – Take trolleybus 210 to "Nove SND", bus 21 to "Novoveska" or bus 70 to "Mala scena". Either one you choose, transfer to bus 28 then. This one leads directly to Devin and it will take you around 30 - 40 minutes to get there. See timetable here.
Bratislava Airport – This one is the most complicated and will require 2 transfers. Whole journey takes 50 - 60 minutes. See the journey planner and timetable here.
If you are new to bus travel in Bratislava, we recommend our guide to using the bus in Bratislava.
Car
People that are used to comfortable ways of traveling and do not plan to enjoy alcoholic beverages on the way, can travel by car. If you plan to drive to the castle by a car, you should head towards Karlova Ves and turn onto Devinska cesta. It will lead you directly to the castle. If you are new to driving in Slovakia, we recommend our Slovak rules of the road.
Boat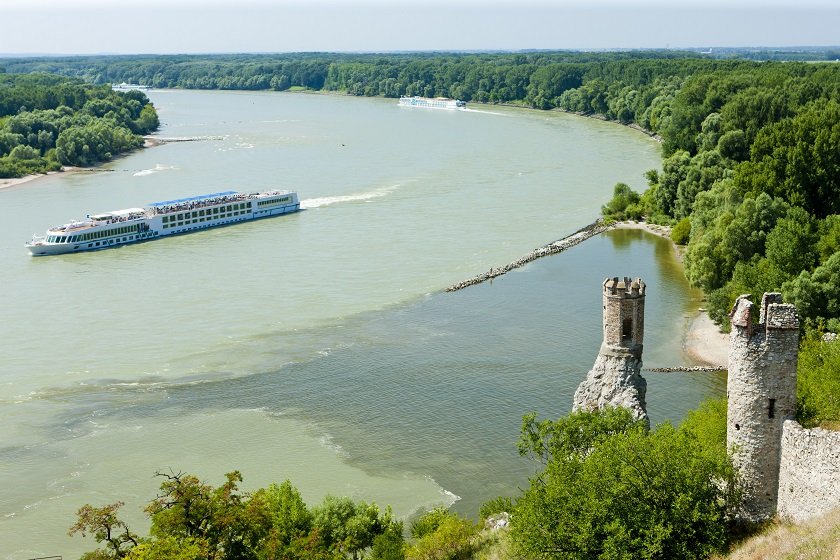 There is a special boat in Bratislava that leaves for Devin twice a day from Fajnorovo nabrezie (10:00 and 14:30), along the Danube River next to the Slovak National Museum. Journey takes around 1 hour 30 minutes and gives you a stopover at Devin for 2 hours. Return adult ticket costs around 10€. This link has prices and schedules from Bratislava to Devin provided by the official operator. You also might be interested in Bratislava guide on boat travel.
Hiking
If the weather is nice, hiking to a castle can be a pleasant experience. Take a bus no. 83 to Zatevna stop. Walk about 10 minutes to the old church. When you arrive, follow the yellow marked hiking path and in about two hours you will be able to take a deep breath at the "courtyard" of Devin Castle. On the hike, you will go through Devinska Kobyla down to the Devin village and then from the village to the castle. If you enjoy hiking, take a look at guide to hiking around Bratislava.

Bicycle
Getting to Devin by bike could not be easier. Both from west and east you can arrive following a bike path. Coming from the old-town you just follow the river Danube and you should arrive in less than 40 minutes. Half of this trip is on a dedicated bike trail and the other half is on a bike path on the side of the road. Remember to stay on the side of the old-town and do not cross the river to the southern side!