From Budapest to Bratislava
Last update: May 2022
Bratislava and Budapest are two beautiful cities that are definitely worth a visit. They may not be as close to each other as Bratislava and Vienna, but the distance between them can be easily bridged as there are more ways of transport between them. Visiting one or the other can be managed in one day, nevertheless, both cities offer plenty of interesting places even for a multi-day trip.
We have prepared for you an overview of all transport options from Budapest to Bratislava (and vice versa), including their comparison according to certain criteria, their pros and cons. So you can easily choose the right one for you and enjoy your trip from the first minute.
And that´s not all! When clicking on a chosen type of transport, there's detailed information on anything you could ask when travelling that way. These guides were compiled based on our own travel experience as well as frequently asked questions by tourists, so you can be sure that you´ll find anything you might need there: schedules, prices, ticket purchase, places of departure/arrival, whether it is possible to take your four-legged or two-wheels darling and much more!
Note: Although we mostly use the phrase " from Budapest to Bratislava" in the article, all the information is of course valid for the opposite direction, i.e. from Bratislava to Budapest, too.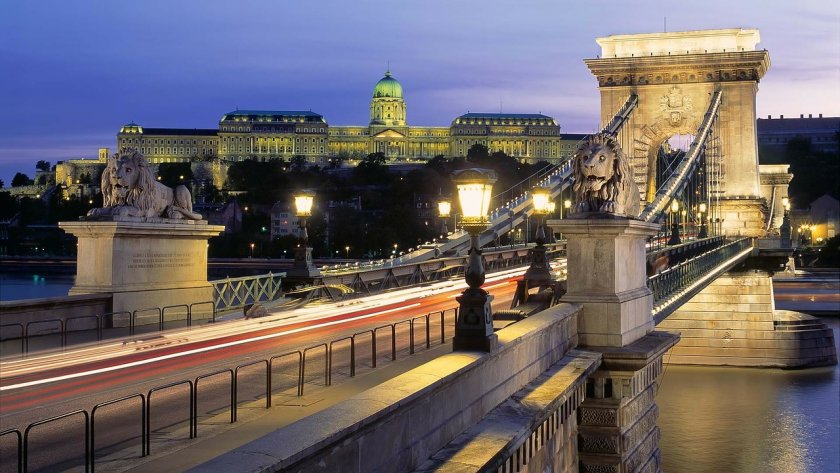 Photo: One of the most iconic sights in Budapest - Széchenyi Chain Bridge
Check out all possible connections and book a ticket for your next trip via Omio.
Easy comparison of all transport options
Buses, trains, flights, car sharing
Train, bus, plane ticket in one place
Find and book a ticket at the best price
Filter results
By time, price, departure/arrival place, company
Get your ticket easily, immediately, on the go!

How can you get from Budapest to Bratislava (and vice versa)?
The distance between these cities is 161 km as the crow flies, by road it's about 200 kilometers. Basically, transport options are: by train, by bus or by car (taxi or car sharing). Probably the most convenient means of transport - except taking a taxi - is a train, yet regular buses shuttle between the two cities, too.
You can try to hitchhike or get there e.g. by bike, of course, but we suppose these options are rather rare ways of transport between these two cities. :) However, if you want to make the trip more adventurous or you are a great sports lover, the Bratislava - Budapest journey by bike can be a really pleasant experience, as the route goes along the Danube and the landscape is rather flat, so it should not be so exhausting.
Given the distance, it is obvious that flying is out of the question, it would be much more expensive and needlessly complicated.
Regarding traveling by car, it's possible to use a worldwide sharing service such as BlaBlaCar or any similar car sharing provider. There are some private companies offering private transfers from one city to another. It's fast, comfortable, but with this tailor-made service you have to take into account significantly higher costs and so consider "cost-to-performance ratio".
Is it possible to get from Bratislava to Budapest by boat?
Although the Danube River flows through both cities, no regular boat service operates on the route right now. There might be some private companies offering occasional boat trips, so if you are interested in this way of transport, it's better to search for that directly as we don't want to give outdated information.

Budapest to Bratislava: Find the best way
Wondering which mode of transport to choose when getting from Budapest to Bratislava or from Bratislava to Budapest? It partially depends on individual preferences. However, the table below should make it easier for you to decide.
train🚅
bus🚌
taxi🚕
bike🚲
Travel time
🕐🕐
🕐🕐
🕐
🕐🕐🕐🕐🕐
Direct connection?
✔
✔
✔
✔
Flexibility


(Place of departure/arrival)

Bratislava
▪️ Hlavna stanica
▪️ Petržalka (indirect trains)

Budapest
▪️ Nyugati
▪️ Keleti, Déli (indirect trains)

Bratislava
▪️ Mlynske nivy

Budapest
▪️ Népliget
▪️ Kelenföld

🌍
🌍
Frequency
📶📶📶
📶📶
♾️
♾️
Price for a single ticket
💲💲
💲
💲💲💲💲
5000 kcal
Table: Comparison of transport options from Budapest to Bratislava and vice versa
---

Already decided? Great! Then book your ticket directly!
👉 BUS TICKETS - RegioJet (via Omio) or Flixbus
👉 TRAIN TICKETS - via ZZSK (Slovak company) or MÁV (Hungarian company)

Interested in a more detailed comparison according to the criteria mentioned above? Then read on!👀
🕐Travel time:
How long does it take to get from Budapest to Bratislava?
In terms of duration, all transport options are almost comparable, there are no significant differences (except bike, of course). By train and bus you can be there in about 2,5-3 hours, by car even in 2 hours. However, by bus and car (taxi), it's necessary to take into account traffic conditions, which can significantly affect the arrival time. If you choose an indirect train connection, the travel time is expected to be much longer as well.

🛣️Is there a direct connection between Budapest and Bratislava?
No matter which means of transport you choose, by all of them there are direct connections to be chosen from.

📍Flexibility:
Where can you get on / get off?
There is no doubt that a car or taxi offers the highest flexibility in terms of time or place of departure, as well as the destination. On the contrary, logically, the train is the most limited in this respect, and there are not many bus stops either in Bratislava nor Budapest (meaning on these particular routes provided by bus companies). However, both train and bus stations are located close to the city centre and/or are easily accessible by public transport.

📶 Frequency:
How often is there any connection from Budapest to Bratislava?
When comparing the train and bus in terms of the number of connections during the day, the train is undoubtedly a winner. Trains shuttle during the day almost every two hours, night time is the only exception. By bus it depends on the bus provider - the one departs throughout the day, the second offers only 2 buses per day, but with a night bus as well.

💲Price:
How much does the ticket from Budapest to Bratislava cost?
Travelling by bus seems to be the most budget-friendly option as a one-way bus ticket costs on average €8. By train it's mostly €14 for a one-way ticket, depending on date and point of purchase. Moreover, this price applies when using the Europa Express special offer. Transfer trains can be significantly more expensive. Taxi or private car transport might be acceptable in case you travel in a group. BlaBlaCar is cost-effective, however you can never be sure in advance that someone will offer to share his/her route with others.

Tip:
Compare all the options for travelling by train or bus. Omio travel portal offers an overview of all connections, including prices, in one place, making it easy to plan your trip and find the best tickets for you.
Getting from Budapest to Bratislava. Do you need to know more?
Of course, there are many other criteria by which we could compare all the possible ways of getting from Budapest to Bratislava. However, we think that some areas are highly subjective, and what is very important to someone may be completely irrelevant to others (e.g. possibility to transport animals, bikes, extra luggage, comfort, overall experience…). Therefore we recommend going through the detailed information we've prepared for you on train, bus and taxi and we believe, with our guide it will be easy to choose the best option according to your preferences. All the information is valid also for ways from Bratislava to Budapest.
👉From Budapest to Bratislava by train
👉From Budapest to Bratislava by bus
👉From Budapest to Bratislava by taxi
Tip: Do you prefer organized tours? Our partner offers a one-day trip from Budapest to Bratislava including stops at some interesting places in Hungary along the route. Check it here and book your date!

In conclusion
Do you already know everything you need about the transport between Bratislava and Budapest? Great, but there is much more that is good to know before visiting Bratislava. Don´t worry, our BratislavaGuide is here for you. Just browse through our website and you can´t be better prepared for your trip. And in case you don't find something you would be interested in, just let us know!