Bratislava Card
Enjoy Bratislava to the fullest with many benefits
The Bratislava Card is the official tourist card issued by The Bratislava Culture and Information Centre. This card helps tourists to discover and experience the best of Bratislava and Bratislava region to enjoy their trip to the fullest.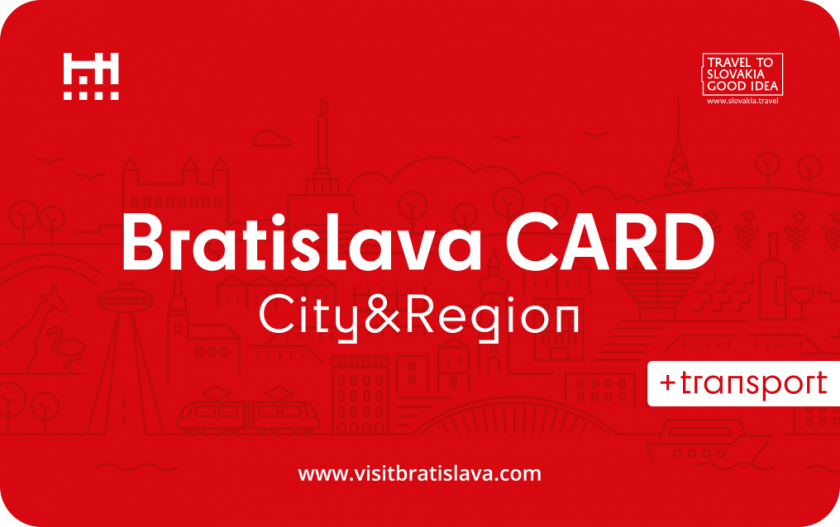 Image source: card.visitbratislava.com/
Why buy the Bratislava City card?
With the Bratislava card you can enjoy e.g. unlimited use of public transport, free access to a number of museums and galleries, free guided tours and more than 100 great discounts up to 50 % (restaurants, cafés, shopping, leisure time activities etc.)

Good to know about the Bratislava card
There are 3 types of cards depending on the validity period - 24, 48 and 72 hours, and you can also decide whether you want to include public transport. Validity is calculated from the date and time of activation at the point of sale.
The card must include the date and hour of issue and the card holder´s name, which indicates that it´s non-transferable. Only persons aged 16+ can buy the card.
All the discounts are listed in the information guide provided with the card.
The discounts cannot be combined with other discounts and offers.
It is advisable to check the opening hours of the place you want to use the Bratislava card - for example, most museums and galleries are closed on Mondays, as well as shops during public holidays. Free guided tours must be booked in advance.
The card, which includes public transport, allows unlimited travel in all IDS BK zones, including night connections. When being checked by an inspector, it is necessary to present your ID together with the card.

Save money with the Bratislava city card
Here are some examples of places or activities that are very popular among tourists and thanks to the Bratislava card you can enjoy them more cheaply.
| | |
| --- | --- |
| Place / Activity | Discount |
| Guided Walking Tour | 100 % |
| Devín Castle | 100 % |
| SNM Museum of History | 100 % |
| Bratislava Castle Tour | 20 % |
| Bratislava ZOO | 20 % |
| UFO Observation Tower | 20 % |
| Danube Cruises | 20 % |
| Slovak Pub | 10 % |
| Twin City Liner | 10 % |
…and many other great offers! Check them all at card.visitbratislava.com.

How much does the Bratislava card cost?
Price varies according to validity period and inclusion/exclusion of public transport.
Without public transport
1-day Bratislava Card 21 EUR
2-day Bratislava Card 24 EUR
3-day Bratislava Card 26 EUR
Public transport included
1-day Bratislava Card 23 EUR
2-day Bratislava Card 28 EUR
3-day Bratislava Card 32 EUR

GET YOUR BRATISLAVA CARD ONLINE

Where to buy the Bratislava city card? Overview of sales points
The easiest way is to buy the card online. Moreover, the card can be purchased at the tourist centre, at the main transport hubs and also at partner sales points - e.g. at selected accommodation. Below you can find some examples, the full list with a map is available here.
Tourist Information Centre
BTB Tourist Information Centre – Klobučnícka 2, Bratislava
Transport Hubs
DPB Public Traffic Center – Hodžovo námestie 1
Slovak Lines Ticket Offices – Bus Station Mlynske Nivy
Slovak Lines Lounge – Bus Station Mlynske Nivy
ZSSK Customer Centre – Hlavná stanica Railway Station
ZSSK Customer Centre – Hodžovo námestie 1
Accommodation & Other Partners
Apollo Hotel Bratislava
Falkensteiner Hotel Bratislava
Grand Hotel River Park
Hotel Danubia Gate
Hotel NH Bratislava Gate One
Hotel West
Blue Danube Tours
Zeppelin Café & Souvenirs – Sedlárska 10