Get to know Bratislava by boat: tips on trips
As a river city, Bratislava offers tourists to explore the city and its surrounding by boat easily. Moreover, there´s a direct connection between Bratislava and other European cities, so you can get e.g from Vienna to Bratislava by boat (and vice versa, of course) or even prolong a boat trip from Bratislava to Budapest, too. And trust us - visiting Bratislava and not experiencing a cruise on the Danube is like going to Venice without trying a gondola ride.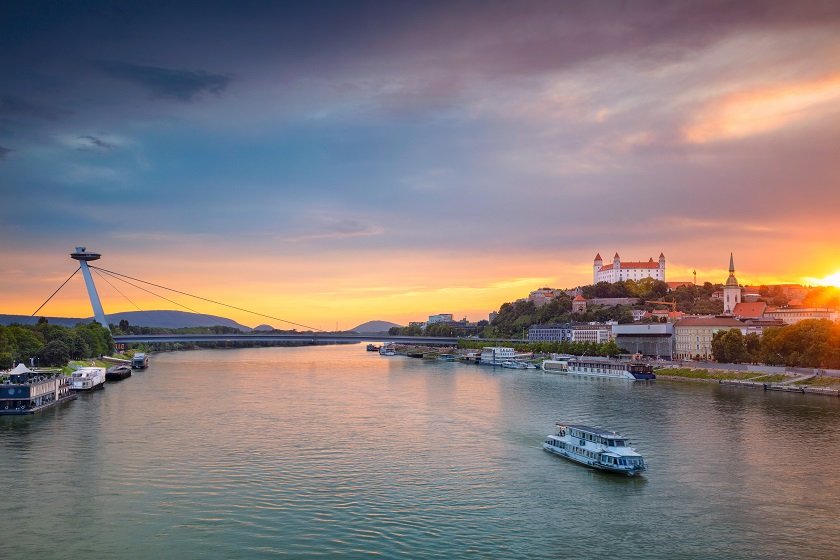 Danube river boat cruises are very popular and let you enjoy Bratislava and its panorama in a completely different way.
1) Bratislava by boat: round trip
Sightseeing boat trips let you explore the important Bratislava sights between five Bratislava bridges.These cruises usually depart from Bratislava Passenger Port, which is located on the Danube river bank, directly in the historical city center, at Fajnorovo Nabrezie 2. The season starts usually in April/May and ends in September/October.
2) From Bratislava to Devin by boat
Probably the most popular boat trip is that one to Devin castle, the Slovak national cultural monument, and the confluence of the Danube and Morava rivers. There is beautiful nature around the castle and you can enjoy amazing views from the castle so it's definitely worth visiting.
For detailed and updated information about Danube boat cruises from Bratislava - timetables, prices etc. we recommend to visit Slovak Shipping and Ports - Passenger Shippping (SPaP-LOD) website. In addition to these probably most popular cruises this company organizes some special cruises and parties on a boat as well, you can enjoy brunch or dinner on the Danube waves. A light buffet and refreshments including coffee, tea, and other beverages is offered during each cruise. During the main season there are also cruises offered on a hydrofoil. Please find the list of all Danube boat trips offered here.
SPaP-LOD is not the only company which organizes cruises and boat trips in Bratislava. Do you like adrenaline, speed or trips in smaller groups? Try Speedboats and their sightseeing or themed cruises.
Twin City Liner: From Vienna to Bratislava by boat
Did you know that Bratislava and Vienna are the closest capitals in Europe in terms of distance? Therefore, when you are in Bratislava, visiting Vienna is almost a must. It´s a perfect day trip and, moreover, river cruise from Vienna to Bratislava is also a unique experience.
The Twin City Liner provides a rapid and comfortable connection from Bratislava to Vienna (and vice versa). In Bratislava you board a high-speed catamaran on Rázusovo nábrežie close to the SNP Bridge and in 75 minutes you´re in Vienna, Schwedenplatz. In the opposite direction, from Vienna to Bratislava, it takes 15 minutes more (as it´s upstream).
For detailed information on timetables, prices or ticket reservation, please visit this website. Be aware that during the off-season, boats operate on a limited schedule.
Besides the Twin City Liner, boat trips Bratislava-Vienna are operated also by SPaP-LOD, too.

Extra tip
If you are looking for a one day sightseeing tour Vienna - Bratislava - Vienna or just prefer organized trips, we recommend booking your trip on GetYourGuide.com, the world's leading guide platform.
If you prefer to plan your own trip rather than the organized one, check the transport options on already mentioned websites of Twin City Liner or Slovak Shipping and Ports (SPaP-LOD).