Boat Transportation and Cruises
Several boat services operate on the Danube River in Bratislava, including the popular Twin City Liner rapid service to and from Vienna, as well as sight seeing ferries and leisure boat rides.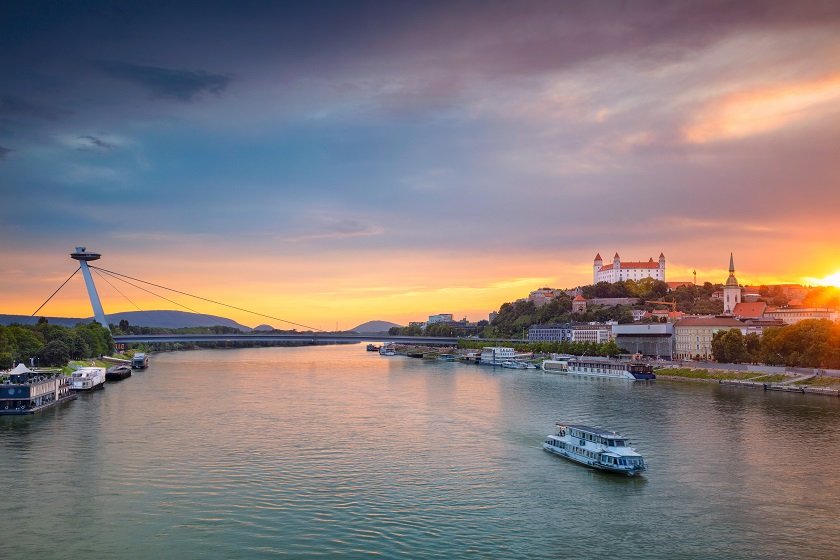 Summer time leisure cruises to the Danubiana Meulensteen Art Museum in Čunovo and the Devin Castle are also popular. Devin is just North of Bratislava and boasts one of the most important historical sites in Slovakia. The Castle has a written record dating back to 864 AD but unfortunately only large ruins exist now, as the Napoleonic armies destroyed the castle in Devin in 1809.
The Twin City Liner catamaran provides a rapid connection from Vienna to Bratislava. Detailed information on the Twin City Liner can be found in our Twin City Liner article. The Twin City Liner operaters between the Bratislava port and centrally located Vienna Schwedenplatz.
In addition to the Twin City Liner, passenger boat service in Bratislava is provided by Slovak Shipping and Ports – Passenger Shipping (SPaP-LOD). The main port for passengers is entitled Bratislava Passenger Port and is situated on the north coast of Danube (best from tram stop Nám. Ľ. Štúra). From this port several cruises are operating at regular intervals. Paid parking is also available.
Regular cruises SPaP-LOD:
Bratislava – Vienna – Bratislava, Vienna – Bratislava – Vienna
Usually operates May to September, takes 105 minutes to Vienna and 90 minutes from Vienna
Check-in 15 minutes before departure
Bratislava – Budapest – Bratislava
As of 2015, this service was not available
Bratislava – Devín – Bratislava
Sightseeing Cruise / Service usually late April to late September
Čunovo Round Trip
Weekend sightseeing trip to Danubiana Meulensten Art Museum
Each cruise offers a light buffet and refreshments including coffee, tea, and other beverages. Besides the regular cruises SPaP-LOD also provides special cruises on their yacht Sírius, for up to 6 passengers, and on the restaurant boat Žilina which can accommodate up to 120 passengers. During the main season there are also cruises offered on a hydrofoil.
Speed Boats
SpeedBoats.sk boat trips service service offers custom Danube speed boat trips for up to 9 passengers.