Bike sharing in Bratislava
Cycling in Bratislava is a very accessible and enjoyable way to explore this city. The locals are huge fans of cycling and therefore the city is well equipped for this activity. And what's more, renting a bike is now easier than ever, eco-friendly, helps keep you in shape, and doesn't cost much!
How does it work? Every bike-sharing service has its own smartphone bike sharing app. Once you download the app and register, you can ride a bike as much as you want! And as much as your financial situation allows you to, naturally. This shouldn't be a problem though since the prices for these bike-sharing services in Bratislava are generally very wallet-friendly.
First, let us introduce you to the main bike-sharing companies operating in this city.
Yellow, red or pink?
Slovnaft BAjk (yellow bikes)
This is a project supported by the official transport company of Bratislava. More than 100 docking places are placed around the Old Town, New Town, Petržalka and Ružinov quarters, with over 800 bikes available! Not bad, right? Bikes are at your disposal 24/7 and are permitted for use only within the Bratislava territory. Users should be at least 16 years old.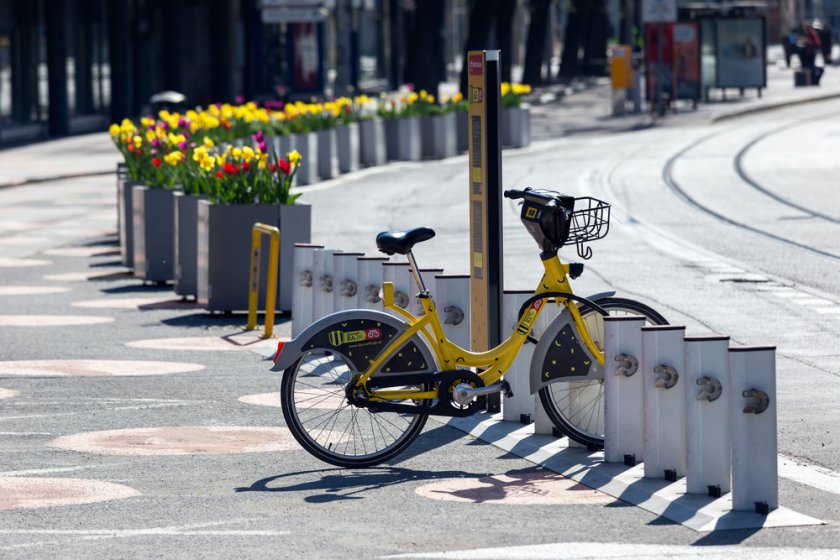 Slovnaft BAjk offers a wide selection of programs, so you can choose the one that works best for you! However, if you only want to use a bike for a short ride along the river, Slovnaft might not be the best solution for you (as they don't offer a short-term rent, the minimum is one day).
Oh, maybe you ask - why "Slovnaft BAjk"? What does it mean? BA is a shortcut for Bratislava and "bajk" is a way Slovaks write the word "bike" phonetically, to pronounce it well in English. Slovnaft is an oil refinery that sponsors this project.
Rekola (pink bikes)
Rekola started years ago in the Czech Republic as a bike-sharing service using donated bicycles - REcycled KOLA (kola = bikes in Czech). Later on it evolved into a standard bike sharing project. It's impossible not to notice their bright pink color in the streets.
Rekola bike sharing works the same as any other bike-sharing company, with one exception - they don't have official docking stations. You can leave the bike in one of the recommended public stands (make sure you park it in a zone marked with the color pink in their bike sharing app). Is the stand full or too far? Just leave the bike anywhere on the street! Naturally, try not leaving it in the middle of the road. :)
What is good about Rekola from a tourist's point of view? You can pay for a single ride! Are you interested in getting more information or downloading the app? Just click on the link mentioned above.
ANTIK SmartWay (red bikes)
www.antiksmartway.sk/en/bike-sharing
This company has already spread in many Slovak cities and is said to be the largest bikesharing service in the country, although it did not start operating in Bratislava until summer 2020. In Bratislava it covers now the city districts of Bratislava - Rača and Vajnory (actually, not the beating heart of the city). Of course, you can use these bikes outside these areas, you just always need to return to this zone.
ANTIK SmartWay bikes work the same as Rekola - they don't have docks, not even recommended stands. When you finish your ride, lock the bike and leave it in the street (in a sector marked in the app map), and you're good to go!
Route tips - Enjoy Bratislava on bike
Getting on a bike in Bratislava gives you so many options where to go. It all depends on what you would like to see, or how badly you want to work up a sweat! If you just wish to catch most of the city's sights in the center, a bike is a great means of transport!
As previously stated, Slovnaft BAjk have their docking stations nearly all over the city, often very close to Bratislava's main attractions. Visit the medieval Michael's Gate, or the majestic baroque Grassalkovich palace (residence of the president of Slovakia). Go see the "Blue church" designed in the Art Nouveau style and park your bike right in front of it! Want to see Bratislava from up high? Leave your bike at the dock right under the UFO tower and enjoy the view from the top! Naturally, you can also use the pink bikes of Rekola (or even ANTIK bikes) that give you the freedom of parking wherever.
Another great tip for a nice ride in the city is just to follow the side of the river Danube - up or down, it's accessible either way! Give it a try. No traffic is going to ruin your experience either, since these routes are directly designed for leisure - walks, bike rides and people just hanging out (the riverside is dotted by various bars and restaurants).
You can also extend this journey by going further along the river to the Gabčíkovo dam - that one's a very nice, traffic-free bike route with beautiful vistas along the way!
If you feel like exploring another part of the city that is not exactly the historical center, the Petržalka quarter just might meet your expectations. Bike routes are very well maintained here and they never overlap with busy streets full of traffic.
And as a bonus, you can admire the classic Soviet architecture of the 70s' - a significant part of this quarter consists of panelák's - tall, slightly hostile-looking apartment buildings made out of prefabricated panels of concrete, very typical for the former Soviet bloc. Back then, Petržalka was the biggest "panelák" quarter in the whole of Slovakia!
Do these routes not seem enough for your active soul and you're in need of a greater cycling challenge? No problem! Maybe you should just reconsider hiring a bike from a bike sharing service though and rent a bike that is better equipped for non-urban terrain. You'll also need to get your hands on a helmet, which is obligatory to wear outside of the city. There are plenty of rental services in Bratislava, don't worry! The ancient Devín castle or the pure natural beauty of the Little Carpathians (virtually criss-crossed with cycling routes) just might turn out to be your ideal destination!