Being Bratislava with Ben Pascoe
0 Comments
Posted by Jakub November 13, 2016 Leave a comment
This April 2012 interview launches our new Being Bratislava series – introducing the best of Bratislava through cool people who live here.

"You should look forward to the unexpected. The thing I like about Bratislava is that you can stumble into some place and you can start talking to some people and they can turn out to be quite nice people and you can meet people who will then show you other nice interesting stuff or tell you about what's happening that night. People are very open here. There is no pressure to do anything but just by chance, everything seems to go nicely here."
Ben Pascoe runs Next Apache (official page, our profile), one of Bratislava's coolest cafes. A café and libresso with thousands of used English and Slovak books with very good coffee, tap beer, good wine, cool book- and art-filled interiors. In warm weather Next Apache also offers seating in a shaded enclosed courtyard.
Next Apache's crowd: "Anybody who is somebody. Good people come here. It's very hard to find so anybody who has come has had to look around or been told about it."
But when the lights go out in this almost unmarked haunt, where does a man as worldly as Ben hang out?
Ben's CLUB Picks
Nu Spirit Club in Safarikovo Square. "If I go anywhere to a club it's Nu Spirit. It's got the best music in town. It's owned by good people who play good music and have made a really nice atmosphere."
Ben's COFFEE Picks
Pod Kamennym Stromom "They have good coffee there."
Simo Pastry in a courtyard of a medieval building in Michalska. "Very child-friendly. Really nice place with fantastic pastries. "
Ben's DRINK Picks
Pod Kamennym Stromom in the centre. "It is one of a few places in the centre of town not owned by a big corporation or a network. It's owned by the guys who work there and they have made a pretty nice place. Just a really nice atmosphere."
KOP Salon by Nova Scena. "Just to see a real, normal bar. They serve good beer there and you can talk. It's got the greatest interior in Bratislava. There is crazy stuff on the walls. I wouldn't say the best art, but you will never see art like this."
Goblin's in Dunajska. "There is a new bar, Goblin's, which is quite an expat bar where they have Guiness and a nice big space and space for concerts and watching football."
Ben's EAT Picks
Prašná Bašta Restaurant in Bastova Street. "Prašná Bašta is Prašná Bašta. It's one place that's been around forever. Nice simple menu, kind od of Slovak but not too Slovak."
Tokyo Sushi Bar in Strakova Street. "One time it used to be such an expensive restaurant and now it's such a good restaurant. Any soup there is good. I don't really eat sushi there although they have very good sushibecause everything else is so good."
San Maarten behind St. Martin's Cathedral. "I always got the Mare e Monti Spaghetti. Anything is nice there. One of those restaurants that almost seems cheap for how nice it is."
Sab Lab downtown in Luxor passage. "One of my favourite places. Soup and sandwiches – just fantastic. Fresh and good food, you can feed it to kids."
MoshiMoshi/Soupa.sk, Next Apache's neighbor in Panenska. "They have great soups at Moshi Moshi. These places have food that I would easily give my kids to eat, because I know it's healthy and they've put an effort into cooking it nice."
Bosphorus in Obchodna. "Turkish place. They have a terrible colour scheme but have the best kebabs."
Ben's SEE Picks
Zoo Bratislava. "I love the Bratislava Zoo. During the week it's not so busy and it's nice to walk around with kids."
Slovak National Gallery. "Depending on the exhibition, the National gallery can be a very calm place to relax because there is are not many people there."
Slovak National Museum. "I went there for the first time in a long time and that was surprisingly nice – for kids."
Ben's SHOP Picks
Butchers on Groslingova. "It's the highlight of my week. It's the one place in the city where they care enough to actually try to sell me stuff. Fantastic experience."
Ben's WALK Picks
Funus Pub in the Forest Park. "The best walk for me is the walk to Funus. It's along one of the nicest parts of Bratislava with older buildings, quiet streets, up a nice hill."
We have more interesting people lined up for Being Bratislava - why not Like the BratislavaGuide.com group on Facebook, so that you do not miss them? And who would you like to hear from in Being Bratislava next?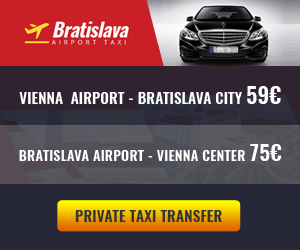 More for you