A Guide to Bratislava´s Official New Year´s Eve 2010 / 2011 Celebrations
0 Comments
Posted by Jakub November 13, 2016 Leave a comment

The City of Bratislava puts on a fantastic New Year´s Eve show each year that has become very popular with visitors and locals alike. January 1 is also the anniversary of the creation of the Slovak Republic in 1993, which makes the New Year (also known as ¨Silvester¨ among Slovaks) even more meaningful.
This year´s official celebration will be divided into three zones
- the Concert Zone in Main Square will display local bands from 5 pm until after 1 am.
- the Party Zone in Hviezdoslavovo Square will host performances from 4 pm until 2:30 am.
- the Midnight Zone along the Danube will have floating Chinese lanterns, a countdown to midnight, and midnight fireworks
Each zone is no more than a five minute walk from the other two. You can download a map of the New Year´s Zone in Bratislava on PDF. You can also take a look at a quick and easy to read schedule of events of the New Year´s Zone in Bratislava.
Or if you´d like to know more about these bands, keep reading to learn more about the acts that will be performing on New Year´s Eve in Bratislava.
Those who like the music of the no-longer-existent band Happy Melon will be able to enjoy the performances of two former members and also the beautiful voice of Maria Kissova. They will be performing as a band called Marisa on the Main Square at 5 pm. Click here to read more about Marisa and to hear one of their songs.
Also, the fans of an interesting group called Billy Barman can be happy, because this exotic band will perform as well. Click here to hear a song from Billy Barman. Billy Barman goes on stage at the main square at 8 pm on New Year´s Eve. If you love rock'n'roll, you should definitely see a show of The Cellmates, classic rock'n'roll band with classic costumes, songs and style. The Cellmates come on stage at 8 pm at Hviezdoslavovo Square. Click here to hear a song from the Cellmates.
If you are not interested in any of those, don't worry. The city of Bratislava will offer many more free concerts on December 31. There will also be a leading Slovak ethno / world music combo the Pressburger Klezmer Band. They will start at 9 pm in Hviezdoslavovo Square. Click here learn more about them and to listen to a song from The Pressburger Klezmer Band.
Lately, the band Lavagance has been doing some great indie rock music. They will be going on stage at 6 pm in the Main Square. If you enjoy funny lyrics that inspire a good mood bringing, you should definitely see a show by the band Hudba z Marsu (Music from Mars). The band actually comes from the nearby city of Trnava. They will be performing in the Main Square starting at 7 pm. Hear some Music from Mars here.
If it still not enough for you, then you can look forward to world renown Roma band Ciganski Diabli (Gypsy Devils). They will play their own variations on traditional music from all over the region. They will not disappoint. Ciganski Diabli take the stage at 7 pm on Hviezdoslavovo Square. Click here to learn more about Gypsy Devils and to hear them play a Czardas.
And if you like something even more popular, there will be a great alternative rock band from Bratislava called Hex (Main Square at 11 pm) and also a ska icon - Polemic (Main Square at 10 pm). After the fireworks are done after midnight, another well-known band will perform – Vidiek - in the Main Square.
There is also one extra bonus, called All Star Open Band, which consist of musicians that perform in different Slovak bands and only occasionally come together and play in one band. There are people from Le Payaco, Hex, Slobodna Europa, Vetroplach, Para and Sounds Like This. They will be playing on the Main Square (Hlavne Namestie) at 9 pm.
If you´d like a schedule of Bratislava´s New Year´s Eve bands in on place, click here for a bullet-point schedule of bands for New Year´s Eve 2010 / 2011 in Bratislava.
There will also be a New Year´s Eve Run across the bridges of Bratislava, on a route that will be about 10 kilometers long.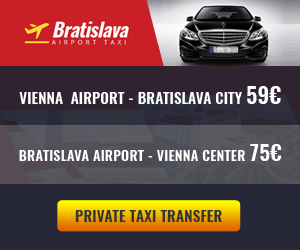 More for you